Current Venue:  Provo, UT
Campground:   Lakeside RV Campground
Visiting : Utah County Fair, Setup Day
Click Any Photo To Enlarge! " * " Denotes A Definition Available on the Common Terms Page
Tag-A-Longs are single-axle trailers that I guess were popular back in the 60's.  It sounds like they're very hard to manage while towing, but the advantage is they only weigh a little over 1000 pounds completely empty.  The one you see up front is a 1963.  The one behind it is a 1967.  I got to speak with the nice couple in the "newer" model.  They're on a two week vacation and, on travel days, have to average 800 miles per day to get back to Pittsburgh in time — I just had to cringe.  But hey, they were all smiles — that's all that counts!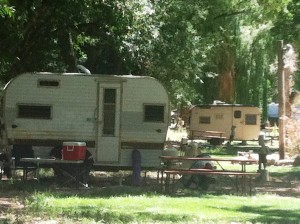 Here's a shot of 48 Ugly from my "office space."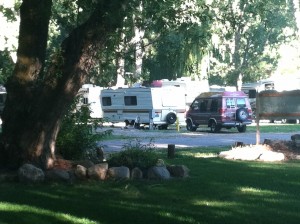 The past two days I went to the Utah County Fair to watch setup and a demonstration.  I'm afraid I was watching worse-case scenario.  The promoter has our cooking demonstration set up in a building with dirt floors – dirt packed with horse urine!  The fair did what they could to remedy the situation, but the flies still came.  I wish my associate the very best.
I felt it would be discouraging to watch another demonstration, so I took in some of the fair before I went home.  Here's a new ride — air-tight balls in a large swimming pool.  I thought it was a fantastic idea, although some of the kids didn't know quite what to do — so they just sat there.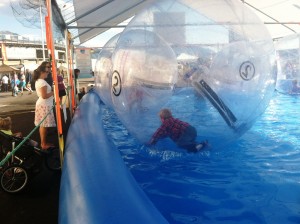 In the 4-H building I found a painting I liked in the "65+" category.  Awesome!  I didn't realize the seniors had a category in these competitions.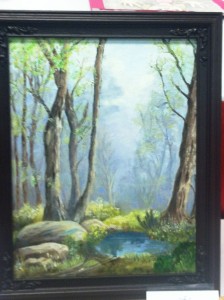 I also learned from this massive lego display — that legos now come in all sizes.  I couldn't believe all the intricate shapes you could make using the teeny-tiny building blocks (I only remember one size when I was a kid)…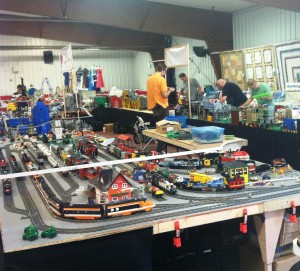 I thought this was entertaining — cowboys shootin' balloons!  I'd never heard of such a thing.  The object is to ride around the pylons and shoot every balloon in the shortest amount of time.  While this cowgirl wasn't exactly a contender, some of the guys where really fun to watch when they could get their horse full-speed and hit every balloon — pop pop pop!  Fun at the Utah County Fair!
Well I'm off to Wyoming.  I hope to get to Rock Springs today and Laramie the next.   I doubt I would need it after this trip, but I went ahead and installed a tranny cooler at a cost of $250.  It bugs me that I'm paying this much for a weeks' worth of "insurance", but better safe than sorry, I guess.  There will be hills, and the temperatures will be in the 90's — it was a close call.
Sunday I plan to get settled into my training venue — Pueblo, Colorado.  I've also heard a few discouraging words between my recent mentor and my new trainer.  The gist is — most new salespeople don't make it!  Great.  It's also suggested that my max 250-mile-per-week rule will probably be challenged quite a bit by the scheduling committee.
Hearing from some actual salespeople now really helps put things in perspective.  It's not all bad.  It is what it is — only the very best succeed.  My advantage is that I'm a full-time RVer.  I don't have "additional" travel expenses because this is my way of life.  I also have work lined up at Amazon after this training.  I can still deal poker events.  I have backup resources.
The words of caution, however, have led me to a couple conclusions:  1.  Stand my ground on the 250-max rule so I don't incur additional expenses.  2.  Make sure my employer is clear that I will work for other people from time-to-time to sustain myself until I'm good enough to take on a full schedule.  I suspect I'll have a bit of leverage in this matter — as it seems good demonstrators are hard to come by…