Click Any Photo To Enlarge! " * " Denotes A Definition Available on the Common Terms Page
Current Venue: Coffeyville, KS
Campground:   Buckeye Mobile Estates
Visiting : Coastal Carolina through the words of The Outer Banks by Anne Rivers Siddons
Recently Updated : Written in Jello
My new toy :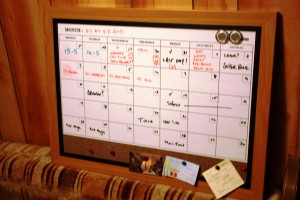 I think that makes 6 dry-erase boards, now.  I'm addicted to them.  But despite being highly-organized, highly intelligent, and hard-working toward my goals — there's always been a ceiling on my financial success.  It's a constant pattern with every one of my careers.  I'll be successful for about 4 years, crash and burn, and then do it all over again.  If it's not something at work in my subconscious, perhaps there's something flawed in the way I approach things.  That's why I made The 7 Habits of Highly Effective People one of my newest reads…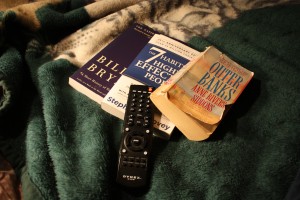 I don't generally have 3 different books going at one time.  I read slow (out loud, usually), and typically for about 30-40 minutes per day.  I began The Outer Banks by Anne Rivers Siddons this month because it was a freebie at the park.  Having no idea what it was about, I couldn't resist it because of my love for the Outer Banks of North Carolina.  It wasn't until halfway into the novel that I realized it was a romance, but by then it was too late.  It's actually quite good.
I purchased the other two books with a gift card given to me as a bonus from Amazon — the self-help book by Stephen Covey and A Short History of Nearly Everything by my favorite modern-day author, Bill Bryson.  For you RVers, if you like adventure and love to laugh, Bill Bryson  is today's Mark Twain.  This particular book is more of a humorous account of scientific discovery, however.  Still, I can't get enough of his style of writing.
Thus, I find myself immersed in all 3 books.  I expect it will take me a few months to find enough time to finish them, but that's ok.
Change of Plans:  I'm not heading to Branson. As it turns out, Branson isn't the best venue to train in.  Instead, I'll be heading to Springdale, Arkansas.  I also have a job lead for a gig at the end of February in Tulsa.  Cross your fingers!
Waiting, Waiting:  I'm waiting to hear from an old client about working a conference in Dallas in May.  In the event I win the bid, I may have quite a logistical challenge.  Unless I pick up a full-time job that I wouldn't mind working awhile, I'll most likely need to go back to Vegas to work the World Series of Poker — and I definitely will go back  if I get my promotion there.
I originally thought it might be wise to find work in or near Dallas until the event, then drive to Vegas.  But I recently realized I would only have 2-4 days to drive 1300 miles.  Problem?  My cat, Jeepers, only travels 3-4 hours per day on his sedation.  Now it seems I actually need to put myself closer to Phoenix.  I have a cat sitter there, and I could fly to Dallas if I can make arrangements cheap enough.
I put this brainstorm in writing so that perhaps it will make this "problem" come true.
3 More Days at Amazon!