Current Venue: Springdale, AR
Campground: Pilgrim's Rest
Click Any Photo To Enlarge! " * "
Denotes A Definition Available on the Common Terms Page
Thursday March 6
The roads were finally clear everywhere except the park, where there was still over an inch of solid ice in most places.  Not wanting to wait a day longer, I dug out the driveway so that I could back up.
Even still, it turned out to be quite a misadventure.  I tried pulling into my driveway moving forward, but I simply couldn't find the right angle and, as soon as I'd straighten out, I'd be on a patch of ice again.  Aside from digging up the entire park, there was just no avoiding it.  In the end, three of my neighbors came to my assistance. The good news is, when I escaped the confines of the park, Memphis Red* managed to chug her way up the steepest hill we've ever encountered.  Good job, girl! My next misadventure would be a minor embarrassment.  I had to pull over at a toll booth to scrounge around 48 Ugly* for enough change to pay the $5.50 fee.  Who knew it would be that much?!  The attendant was very pleasant and patient. Then, during my race against sunset, I found myself at a crossroads.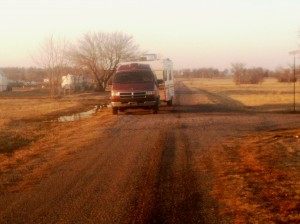 I'd made a wrong turn.  Seeing a field with several RVs in it, I'd turned at a sign that said something like "Belle Starr" — the name of mine was "Terra Starr." Where I'd turned wasn't a park at all.  This RV community was just sprawling countryside with little one-lane roads.  In an effort to turn back around, I tried to find my way back on paved roads.  But this wasn't working.  So I found myself in this jam — turn left on a gravel road or come up to the end and turn right on a mud road!  I hunted down some neighbors who said if I'd turned left I would have ended up at the lake in a world of hurt.  Mud road, it would be.  After a bit of slippin' and slidin' I made it to Terra Starr RV Park just as the sunset and broke my all-time record for unhitching and setup — I think I did it in less than 7 minutes. Strangely, I felt quite calm and grateful.  I had no breakdowns and did pretty well on gas mileage.  I slept well.
Friday March 7
I remember someone writing on RV Park Reviews that this camp is not a "destination park."  I think it depends on your perspective.  I sense he was more the "vacationer" type rather than the full-timer like me who tends to appreciate anything unique.  This one is clearly unique!  I recommend this park to anyone who enjoys nature and morning walks. We woke up to birds.  In all my RVing days, I've never looked out the window and seen so many species of birds!  Jeepers couldn't get enough. I've never seen anything like this.  Here are the most spectacular resident setups I've ever seen.  Every resident RV is under a large carport!  Most of them are quite extraordinary, complete with large decks, high ceilings, and fans.  Very, very cool.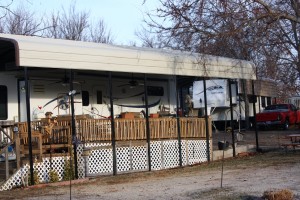 And if you like nature?  Take a walk on the beach!   I've never seen so many large vultures in one place in my life.  It took my breath away to see nearly 30 vultures perched on about 2 trees.  I'm afraid I didn't get a great picture of that because I spooked them.  It's reported that there are even pelicans in this area during certain seasons.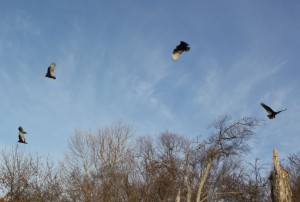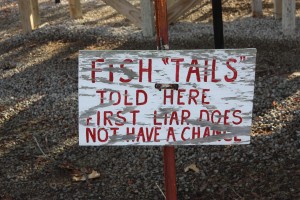 My trip to Sulfur Springs, Texas went reasonably well.  I struggled for awhile going up hills and straight into a headwind but, overall, quite uneventful.  Cooper Lake State Park has some of the best pull-throughs on the planet. I love how they're right up against the woods with a very spacious campsite sort of caddy-corner.  Very well done!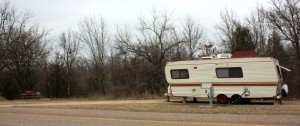 The coyotes made Jeepers quite nervous.  I don't know if they were in heat, but they were quite active the entire night.  Sometimes you'd hear 5-6 at one time!
Saturday March 8
It was a bit chilly for a cooking demonstration outdoors, but how can you resist?  It's 50 degrees, drizzling, and we're cooking with cast-iron pots on hot coals.  Best yet, the cook is packing a pistol!  While the show did move slow at times, I think everyone enjoyed the presentation and the shrimp gumbo was spectacular — best I'd ever had outside of New Orleans!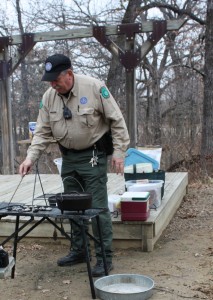 Sulphur Springs has a quaint little downtown.  But the highlight is the world-famous glass outhouses.  You can see out, but folks can't see in.  How weird is that!
This trip was a long one.  A few long hills and bumper-to-bumper traffic for the last 12 miles as a result of a wreck. The I35 RV Park is probably the noisiest highway park ever.  I don't normally mind highway noise, but this is borderline.  That said, the staff and facilities are terrific!  Nothing lavish, but very thoughtfully laid out.  Fishing ponds, swimming pool and hot tub (closed for the season), driving range, a nice rec hall and — best of all — free made-to-order breakfast in the morning at the on-site diner!
No news yet on the gate-guarding job.  Therefore, I decided to stay one extra day and rest.  I did a little research and finally found a reasonably-priced park in San Antonio at a weekly rate.  It looks like I'll settle in there and start applying for jobs as I wait on the gate-guarding thing.  Is this going to get hairy, again? If you are ever passing through Texas, do yourself a favor.  Deplete your food supplies and go to your local H-E-B grocery store.  These places are amazing!  A nice, big supermarket at about 33% off normal prices.  Simply the best I've ever seen.
Everything started off perfect when I arrived at Spring Branch RV Park just north of San Antonio on Tuesday.  The place has some real character and very friendly owners.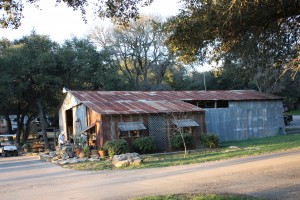 "The Barn" is authentic — part of the original farm that the owner, Gary, worked on as a kid.  It's now home to the office and a unique, open meeting space for morning coffee as well as a big screen television and kitchen.  The other buildings on property are equally impressive…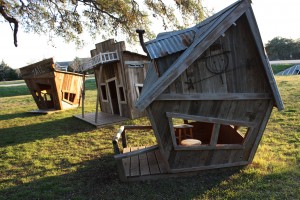 Actually, the laundry facilities has a nice clubhouse attached to it.  Very nice.  And, while each building on the premises is rustic on the outside, they are very modern inside.  The huge restrooms and showers are all private, ultra-modern, , clean — and perhaps the best facilities I've ever seen at a campground. But as I was having my morning coffee on Wednesday, I got a phone call.  It seems one of the neighbors complained about the appearance of 48 Ugly* and the owners were having to enforce the 15-year rule.
Great.  So much for job-hunting.  I spent the day looking at the dismal options in the area.  Not only were all the good campgrounds too expensive, but the state parks and COE's were all booked up due to spring break.  The parks with available spaces were slums — country parks in total disrepair and way below even my standards. Gary worked things out for me.  In fact, he even applied my two nightly's toward my week rate.  Additionally, when it appeared I'd have to head towards Corpus Christi right away, he offered me a permanent-type space at another campground up the hill in the event I found work here in San Antonio.  (The only drawback is I'd have to drive half a mile to the main resort to use the shower facilities). It's nice to have options.  Now, as I wait for the gate guarding  call, I can apply for jobs in both San Antonio and Corpus Christi as my Plan B options.  Thus begins my South Texas adventure…