Click Any Photo To Enlarge!
" * " Definition on Common Terms Page
Current Venue: Spring Branch, TX
Campground: Spring Branch RV Park
Visiting: San Antonio Spurs vs Golden State Warriors at AT+T Center
Recently Updated:  Route Maps 2012-14 moved to "Written in Jello" Menu Bar April 3, 2014
Stubhub is awesome.  I may have mentioned this in previous posts, but where else can you get a $6 ticket to see the best team in the NBA!  I'm already eyeballing seats for other games : The Houston Astros, Houston Texans, Texas Rangers, Dallas Cowboys…
And so, for less than $15 after parking, I find myself at AT+T Stadium…
The San Antonio Spurs were on an 18-game win streak, winning by an average of 17 points per game.  The are led by Tim Duncan (who's something like 63 years old), Tony Parker, and a very impressive supporting cast.  One of the really cool things they do here while the players warm up is pan in on them in real-time and show their statistics — every single player.  And, if a bench player doesn't have particularly overwhelming season stats, they'll find some flattering statistics on them.  It's very well done and a really good way for someone like me to learn each player's role on the team.
The Spurs put on a Class-A production.  The intermissions are the most entertaining I've seen in ages.  They keep the crowd laughing, engaged, and involved.  Although, I have little doubt Spurs fans have need much more than their basketball team to keep their spirits high.  This town love their San Antonio Spurs!  Better than 90% of them stayed til the very end.  I suspect I may find this a lot with Texas sports teams.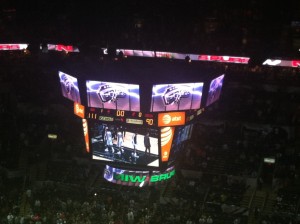 The Spurs were in control from the very beginning.  In little time at all they had a 20-point lead.  At times, they pushed a 30-point lead when they had their stars in the game.  Incredibly, they played most of the game with their bench players, all of which played fantastic!  It's a been a long, long time since I've seen such a dominating performance.  The Spurs would go on to win their 19th consecutive game 111-90.  They did this with seemingly great ease.