Click Any Photo To Enlarge!
" * " Definition on Common Terms Page
Current Venue: Spring Branch, TX
Campground: Spring Branch RV Park
Visiting: Lyndon B. Johnson National Historic Park in Johnson City, TX
Recently Updated:  About Me
I happened upon it quite by accident.  My original intention was to visit the buggy museum in Blanco — it was closed (for Easter)?  So I ended up in Johnson City, hometown of our 36th president.  It's not a coincidence that Johnson City bares the same name.  It was named after an earlier generation of LBJ's family tree.  Here is where he grew up…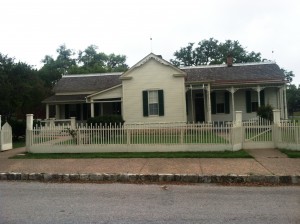 Notice the baseball glove on the bed.  Apparently LBJ had one of the only baseballs in town during the depression and, being very competitive, if he didn't like the way the other boys played he'd take his toys and go home.  He remained quite competitive the rest of his life, not one to turn down a good poker game.  But his generosity is also well-noted, giving away many expensive cars to his staff over the years.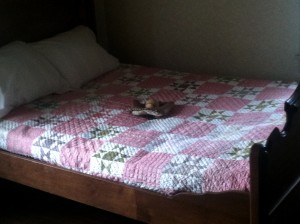 Ever heard of a sleeping porch?  During pre-historic times (pre "A/C"), it was not uncommon for entire families to sleep outside during the summer!  It's hard to imagine a family of seven all sleeping outside, isn't it?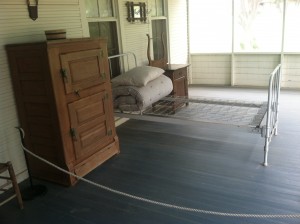 LBJ's family would become one of only a few residents during the depression to have running water in the kitchen.  Apparently it took many years of Lyndon B. Johnson lobbying to finally get electricity in Johnson City.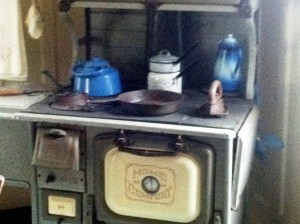 The residence takes up an entire city block — albeit a very small one.  Apparently, LBJ's father would lose their fortune during his childhood.  Fortunately, he married rich — inheriting his wife's radio station and going on to become the 6th-richest president in our history.  His net worth during his term was $98 million.  (George Washington tops the list at $525 million and JFK only comes in at #10).