Click Any Photo To Enlarge!
Current Venue: Mt. Shasta, CA
Campground : Friendly RV Park
Another Delay…
After waiting out a snowstorm in the hills Monday I got to enjoy a rainy day in camp and do some reorganizing. There was nothing in the forecast about Tuesday. Apparently the weather changes fast. And, with no internet connection at Wonderland, I had no way of knowing.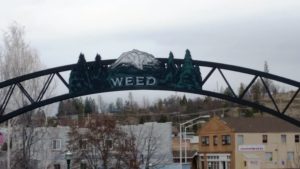 I pulled out of Redding in a light rain. In the next hour it became a heavy rain. It then became a respectable snow. All this, while ascending 3000 feet! When I pulled into Weed I was battling high winds. I pulled over and double-checked the weather conditions further north on Highway 97. A winter storm was wreaking havoc in Oregon! Several of the mountain passes had packed snow and ice on the roads, with several reported accidents.
I sat down at the coffee shop to regroup.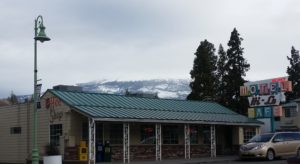 After evaluating the situation further, it was clear I was going nowhere. (It's a good thing I encountered the rogue storm on Mt. Shasta. Otherwise I would not have checked the reports). I jumped on my handy-dandy Passport America app and discovered Friendly RV Park.
Disheartened by my 2nd straight weather delay, the Friendly staff, an elderly couple, immediately cheered me up. I had a nice chat with the lady about our brief work stints in Laughlin, and the gentleman was all too happy to direct me into my site. It was a great start. The fast internet and warm, super-clean showerhouse sealed the deal — I really like this campground. And, with a $400 monthly rate, this park is a top prospect as a place to settle in and be super-productive without the distraction of poker.
I Love Weed
There are no shortage of gift shops in this little town. And, when your town is named "Weed", the obvious play on words is going to sell a lot of t-shirts. That's not to mention the Mt. Shasta merchandise. But what I didn't realize is that this area is Sasquatch country!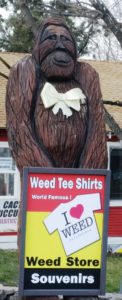 I wandered into a rustic-looking "mall" situated next to a small city park. But it wasn't a traditional mall.  The two-story building is separated into a bunch of small "stores" — the gift shop, the craft store, etc — but is actually one large not-for-profit thrift store/community center.
The owners, another wonderful elderly couple, explained that a couple years ago a fire consumed 150 homes in Weed, and 10% of the town's residents were displaced. The couple worked without a day off for two months to provide for those in need —  delivering provisions, clothes, board games, and even VHS movies to all the local hotels as the refugees awaited the verdicts on rebuilding their homes. It's clear these store owners really care about their community.
Last, but not least — I found the greatest macadamia nut cookies ever! Be sure to drop by Ellie's if you're ever in the neighborhood.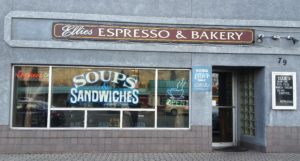 Where's Mt. Shasta?
The 14,000 foot Mt. Shasta has been pretty elusive. It has been covered in billowy storm clouds nearly to the base. But, as I prepare to hitch up, I see blue skies.  It's time for a walk…