Click Any Photo To Enlarge!
" * " Definition on Common Terms Page
Current Venue: Las Vegas, NV
Campground: Thousand Trails
This is my version of a weather event in Las Vegas. ..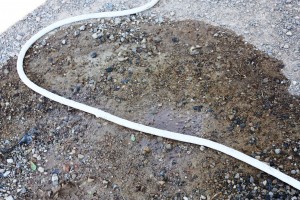 Yep, a busted hose.  With temperatures in the "one-teens" for a couple weeks, I neglected to run the faucet often enough — and the water boiled long enough to burst the hose.
A weather event in Las Vegas might also include tripping the circuit on a regular basis because the A/C can't stand the heat.
But then it RAINED for a few days.  That is to say — we received at least a trace of rain every day.  For a couple days we even had flash floods.
Was this the result of a long, heavy downpour?  Not necessarily.  After something like 130 consecutive days without measurable rainfall, the ground becomes less porous.  That, in combination with poor drainage in much of the area seems to wreak havoc whenever we have the slightest of storms.
But you know I was loving the overcast weather!  A couple long scooter rides were in order.   I ended up on Hollywood Boulevard.  Sound glamorous?  It is if you like windy desert mountain roads lined with water treatment plants, dirty mattresses, and mounds of garbage!  But hey, there's beauty everywhere.  You just have to know where to look — sometimes wayyyy off in the distance…

Off to Wetlands Park.  Specifically, the "Boardwalk and Turtle Pond."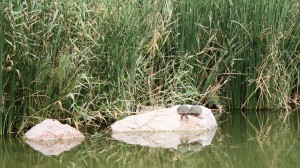 I'm still settling in.  Now that I have a desk, I've been working really hard on my projects right here at home — the national headquarters of RiverCat Productions is finally taking shape!
And because I've been spending more time here,  I've been able to enjoy the resort more and enjoy simplicity, even in this very busy town.
One of my favorite pastimes is taking a stroll just outside the park, leaving it's sereneness to observe the chaos of Boulder Highway.  While my struggle has been a monumental one; watching angry drivers, sad prostitutes, and some unfortunate homeless people really puts things in perspective.  Not only does it remind me how fortunate I am, watching the disenchanted is also my motivation to work even harder.