Click Any Photo To Enlarge!
Where I'm At: Chehalis, WA
Campground : Chehalis Thousand Trails
Recently Updated : Written in Jello
Garmin Prefers the Scenic Route…
My Garmin is old. Really old. It costs the same to buy a new Garmin as it does to update the maps. In fact, when I purchased mine, I don't think they even offered lifetime updates. It's done a great job over the years. Aside from one little area in Las Vegas, it's never really gotten me lost. But it has taken me on the "scenic" route a couple times.
This time it did something really strange, though. After reviewing my atlas and Mountain Directory West, I'd already chosen the route I thought I wanted to take — a drive of approximately four and a half hours. But when I punched in my destination on the Garmin, she wanted to take me up 97 and then pick up 84 — also a four and a half hour drive. Great! It meant I'd get to see even more of interstate 84 and the Columbia Gorge. But more than an hour into the journey Garmin decided it was a six-hour drive, instead! There was nothing I could do. I would arrive in Chehalis after dark.
Surprisingly, I managed to navigate two steep hills, back in, and set up in total darkness with very little difficulty. Here's the view from my desk window…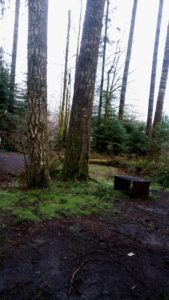 Chehalis Thousand Trails
Chehalis is the original Thousand Trails with almost 400 acres to explore. It is probably the quietest campground I've ever stayed in. (Granted, it is the rainy season and only one section remains open after some devastating winter storms).
Every day I wake up to the sound of a woodpecker. Every afternoon I can see several deer grazing nearby. One regular visitor claims to have seen black bear and even a mountain lion once! This area is absolutely teeming with wildlife.
Despite quite a few difficulties I've somehow managed to take a few hikes and explore the property. Some areas have the feel of a ghost town at the moment, with many of the amenities shut down due to the storm and an elusive water break. Unfortunately, this is why I won't be able to take advantage of the adult lodge and swimming pool.
Some of the outdoor amenities such as tennis, pickleball, mini-golf, and horseshoe pits haven't seen any love lately. It's difficult to tell if this is simply the weather, moss, and mud during the rainy season — or if these facilities haven't been maintained in years.
I don't care. As much time as I've spent in the desert and drought-stricken California the past few years, I'm just loving the RAIN! There's no need to spend money on car washes and RV detailing when you're staying in the Northwest this time of year…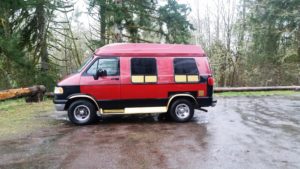 My Quest for Vision
My personal challenges have not gotten any easier since Jeepers has passed on. During his 6-month demise, I have really neglected to realize just how serious my own health issues may be.
It's been two full years of trying perhaps 15 different prescriptions, none of which have worked. My eye doctor in Vegas says he has never seen a variance like this. My doctor here in Seattle has also never seen anything like it! I'm a medical oddity, it seems.
I originally intended to stay here for only four days. But it turned into VisionQuest 2017 and a full two-week stay. I have spent over $600 and the majority of my time here bouncing around between my eye doctor and various Lenscrafter stores (as far as 2 hours away) in an attempt to quickly secure some high-powered lenses and an interim solution. After several fails, we discovered my vision changes a full 3 points in each eye throughout the day. I now have 5 eyeglasses to get me through each day — 3 for distance, 1 reading, and my nasty progressives to fill in the gaps when necessary.
The prognosis isn't good: Between 3 optometrists, one believes I may have diabetes, the other two seem to think I'm heading for a major surgery — cornea replacement! This is a result of a surgery I had about 25 years ago. Radial keratotomy was laser surgery's predecessor. It gave me 20 years of terrific vision. Unfortunately, my eyeball is now mush. I'm cutting this trip short to get back to Vegas before May for my physician and opthalmologist appointments.
My Office
On the days I can break away from VisionQuest early (finally, today was my last for awhile), I've done some sightseeing. But it's been such a frantic pace, that a handful of my best days in Chehalis has actually been setting up shop at the family lodge to take advantage of cellphone service and wi-fi. I've even managed to watch some basketball!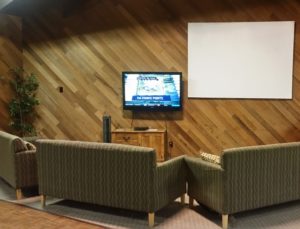 Honestly, when you have a terrific campsite surrounded by natural beauty, this is not where you would expect to make best use of your time. But life happens on the road and the lodge has been my refuge this time around. I utilized my resources to make the best of my situation…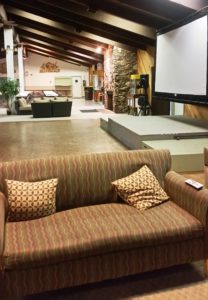 And what a place to do it!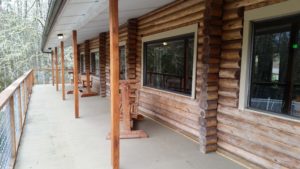 I finally got confirmation that I'm working an event in Pendleton, Oregon. This is music to my ears after bleeding money this entire trip — weather delays (throwing off my weekday Passport America rate calendar), bad poker, bad health — now maybe I can maybe get back to Vegas not limping quite as bad.
I'll still get to spend a week on the Oregon Coast, a couple days along the Columbia Gorge, a two-week working vacation in the Pendleton area, and maybe even a fun journey back to Vegas! Who knows…maybe the best of this journey is yet to come…