Click Any Photo To Enlarge!
" * " Definition on Common Terms Page
Current Venue: Las Vegas, NV
Campground: Thousand Trails
Football season is fast-approaching.  Last year in Kansas was the first year in forever that I could count on seeing most of the games. It was the first year in many that I had weekends and Mondays off.  I had cable television (but no ESPN or NFLN).
This year I'm even more geared up.  It took three months here in Vegas to realize that I was missing a couple of network stations — NBC and CBS.  Would giving my antenna two feet more in height really help that much?
I'd broken the crank earlier in the year, so I managed to get on the roof and push it up manually with a little muscle.  The next windstorm made quick work of that job.  Ultimately, I came up with a more permanent solution…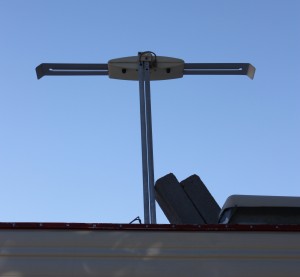 Cinder blocks.  ABC, NBC, CBS, and FOX.  In the clubhouse I have NFLN and ESPN.  I am NFL-ready!  Go 49ers!  (And Chiefs).
I've started a tough but potentially lucrative sales job.  If all goes well, great.  If not, I'll be signing up with several temp and on-call agencies until I come up with a better plan.  All this, while getting my business set up — I intend to set up at a large consumer show by the end of the year to get the ball rolling.
It rained again briefly.  I think we've accumulated about an inch this year?  Without further ado, rainbow pictures…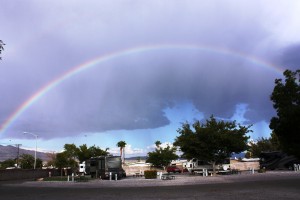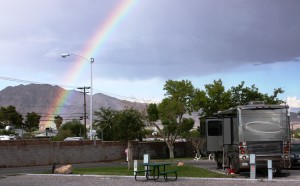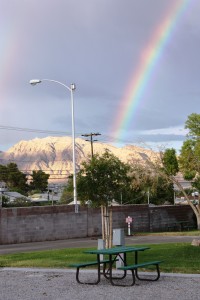 Ok, I swear the end of this rainbow is only two blocks away.  A pot of gold?  Perhaps in a casino vault.