Click Any Photo To Enlarge!
Current Venue: Las Vegas, NV
Campground: Sam's Town KOA
Wow! It's been quite awhile since I've blogged. As my year of disrepair continues, it's been a struggle to get a grip on high-speed internet. I've signed up for a new data plan that won't allow me to incur additional charges when I exceed my limit, but instead drops down to a slower speed. The slower speed is, of course, absolutely worthless. And now, instead of taking an entire month to use all my high-speed data, I'm all-of-a-sudden using the same amount in one week. How does that happen?
I've been too busy to deal with it. I'm working steady this month and trying to keep up with my sick kitty. Jeepers seems to find a new affliction every week. And, instead of finding answers, each day leads only to more questions. I won't lie — I have fits of depression over feeling helpless in this situation. I'm already dreading the thought of cancelling my holiday reservations in Sedona, but some pretty steady visits to my new veterinarian seem very likely at this point.
One thing that's been cheering me up a little while my "home" park is still in disrepair from the windstorm, is that I've rediscovered my favorite "out week" resort — Sam's Town KOA. I'm having a lot of fun here nestled between 3 casinos, especially at the Sam's Town Monday Night Football viewing parties (where they have prize giveaways during every commercial). More on the resort another post, but it's the perfect spot at the moment, with excellent wi-fi at the pool and general store. I have to say — the view of Eastside Cannery Casino ain't bad, either…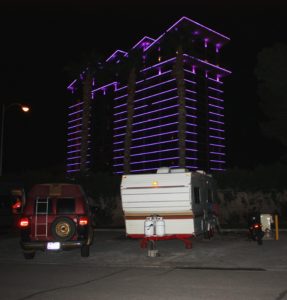 Now, in addition to a mailbox and storage unit in Las Vegas, I'm also a full-fledged Nevada driver! Being here 6 months of the year does make me a part-time "resident" here, after all…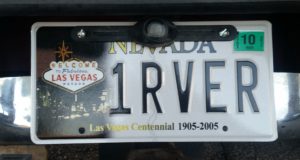 Nah, still a nomad. My uncle recently adopted the full-time RV lifestyle, as well! He recently came for a two-week visit, our last excursion being a drive around Red Rock Canyon…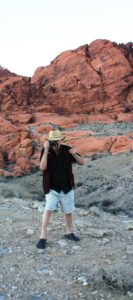 Busy, Busy. I'm thrilled to have Thanksgiving off, though. That will be my One-Day Fun-Day with no work, chores, or errands. Just pumpkin pie, football, and fun. Work will end 2 days later, followed by a week of trying to qualify for a World Poker Tour event at the Bellagio.
I'll hopefully determine during this time I can hit the road, again. If not, Vegas isn't the worst place to spend the holidays. The casinos offer dazzling Christmas Village displays and excellent giveaways for their regular players (I would probably select some Home Depot gift cards again. Very handy). And there's plenty of fun to be had in Las Vegas on New Year's Eve.
So, either way, I'm prepared to have a fun holiday. If I can't travel until after the first of the year, that's okay — it appears work will be scarce for awhile and I'll have plenty of time to do it!