Current Venue: Coffeyville, KS
Campground:   Buckeye Mobile Estates
Visiting:  Treasure Hunting the Ruins Between 8th and 11th Street
Click Any Photo To Enlarge! " * " Denotes A Definition Available on the Common Terms Page
I'll spare you the gory details of my frozen sewer/water adventure.  I'll just sum it up by saying I spent all of last week outside of work dealing with the issue leaving me with some damage to one of the hoses and seemingly a leak around the valve.  The damaged hose will be disposed of after January.  I'll deal with the valve later down the road.  I got enough repairs on my list.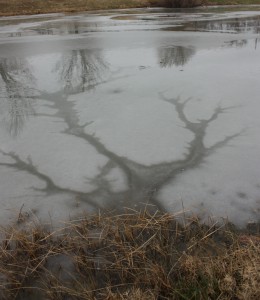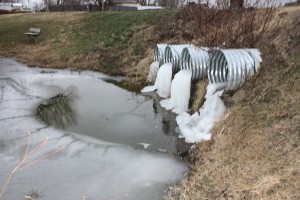 It took all weekend to put my household back together after the messy ordeal.  It's amazing how, after a week of not being able to do dishes, everything else tends to pile up in sort of a snowball effect in such a short period of time.
The snow has been melting the past couple days so me, Bob, and my neighbor Jackie decided to go treasure hunting.  Bob had been eyeballing a neighborhood of old foundations that were left behind by the 2007 flood  and we decided this would be our last chance before they leave town next week along with a bunch of other Amazoners.
First Bob showed me how to get familiarized with the readings on the metal detector by testing it on different metals…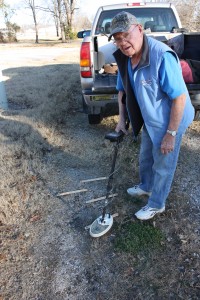 We quickly found our first treasure around an old foundation — tin foil…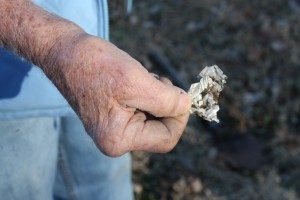 We also discovered a rusty pipe, a door hinge, and a few screws and nails before the excitement started.  We got a really strong "target" on the metal detector under a tree.  It really intrigued us that we were getting a strong signal here because it was a ways away from the foundations and a likely place for someone to bury something.  About 6 inches down we found a broken metal lid of some sort.  But there was still a strong signal even after we removed that.  About 8 inches down was a small concrete slab.  This excited Bob even more, exclaiming it could be a marker for buried treasure.  I have to admit, it did seem odd this piece was so deep in the ground laying perfectly parallel to the surface.  After I was able to extract the slab, I dug deeper.  Alas, less than a half-hour into our treasure hunting adventure, the payoff…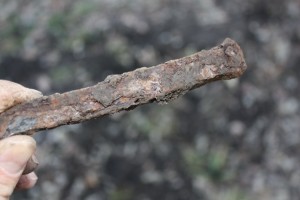 I'm keeping it.  I worked hard for that spike and I'm determined to hang onto for awhile.
We took our adventure over to the rodeo/fairgrounds and finally turned our first real profit.  A quarter.  Minus my 10% commission, Bob made 22 cents in less than 2 hours.  I suspect we would have made quite a bit more if we'd had more than 2 hours.  I'd be willing to bet we're going to meet up again someday and do it right.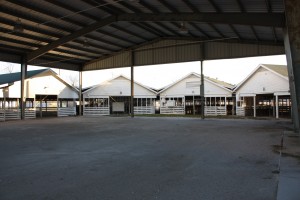 But last night I gave Bob and Ruby their farewell/thank you dinner at  Hog Heaven.  It was awesome!  We ordered a barbeque sampler and some wings.  The wings were so delicious we ordered seconds.  All of this under the shadow of a thoughtfully decorated Christmas tree.  Good times.
Of course we didn't speak much of Christmas.  We (Bob) talked about treasure hunting!  He spoke of his encounters with a world-renowned treasure hunter and assisting some miners in finding gold.  His eyes light up when he talks about some known treasures still waiting to be found.  I told him that, with all his passion and optimism for his hobby that I have little doubt he'll find a real treasure some day.
I'm really going to miss this couple after they leave.  Only a few of us are staying behind to work the extra month so I expect new friendships will develop after these guys leave but it sure won't be the same.