Click Any Photo To Enlarge!
" * " Definition on Common Terms Page
Current Venue: Anthony, NM
Campground: El Paso West RV Park
Recently Updated:  Written in Jello  May 11, 2014
I really hated to leave Spring Branch RV Park.  It was the ideal setup for me and there are many things I'll miss.  I'll miss my yard with a nice shade tree and picnic table.  I'll miss my neighbors, the clubhouse, the shaded basketball court, the neat location — and I'll especially miss "The Barn…"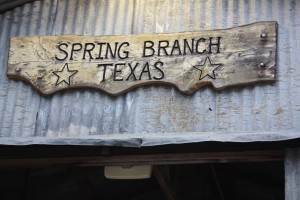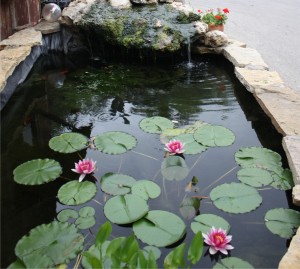 I was thrilled to see the weather was going to be overcast.  There were a lot of thunderstorm forecasts but it seemed none would develop until later in the afternoon.  I'd be thrilled if I got cloud cover most of the day.  And because I got off to a nice start I decided to push it a little and see if I could drive a couple more hours to Fort Stockton.
I was barely aware I'd been driving awhile in the blazing sun when I pulled over at a rest stop and discovered this…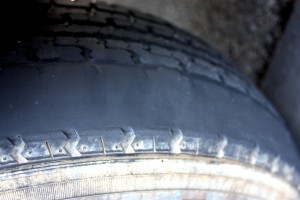 There was also some anti-freeze dripping a bit.  I took it slow for a few miles until I reached Odessa.  There was absolutely nothing there except what appeared to be a run-down motel, truck stop, and a miserable-looking RV park.  You could tell the park used to have amenities — a car museum, restaurant, rec center, and pool.  All closed.  Well, not exactly — there was plenty of water in the pool but it was pitch-black.  And do you think this park was empty?  NO!  You see, this is oil country.
Not even the office was open.  You have to walk across the street to the motel only to have them tell you the park is full.  You would think with a full park year-round they could at least do something with that swimming pool, maybe do something nice for the residents even though they are workers.  Simply an awful place.
I had a sinking feeling when the motel clerk informed me the next town was 160 miles away.  What could I do?  I pulled 48 Ugly over to the gas station to top off the tank.  Out of the corner of my eye I noticed the truck stop service station with some tires in front of it!  A lucky break?  Well, the good news is they had my trailer tire.  The bad news is I had to fork out full price for a new tire.  (The anti-freeze quit leaking and the radiator was full.  It seems there may have just been some overflow from the reservoir).
I arrived at Fort Stockton RV Park after 6 pm.  It's a former KOA and the owner is very friendly.  While the facilities aren't ultra-modern, I loved that they had private bathroom suites and a swimming pool.  It's hard to believe that I wasn't having my first swim in mid-May!  I met several different couples en route to the Arizona and the Grand Canyon — which seemed quite coincidental considering how far away it still was!   Fort Stockton is clearly an RVer hub due to it's proximity to nothing.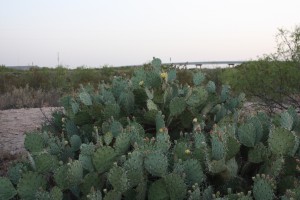 I made it to here to Anthony, New Mexico with no incident.  Again, very friendly owners!  My shaded lot is very nice and the showers are very clean.  Laundry costs $1.50 to wash and dry.  Having cable is nice.  There are lots of birds and feral cats.  It's nice, it's decent.  And, actually a perfect 2-day stop for me because there are no distractions or amenities.  Just a nice place to kick back and get some laundry done.  (I took a picture of my site but it somehow didn't make it onto my flash card before I came to the library.  My interim laptop is not faring well).
Last night I cruised into El Paso for a bit.  It's an odd city in that things are placed in strange proximity to one another.  You just see strange things like…nice restaurants and movie theaters next to bus stations.  Or large department stores like Target right on top of the interstate.  Just "different."  It was also weird seeing the border patrol cruising interstate 10.
One thing is for certain — it's breathtaking looking down on the city lights at night.  Beautiful.
It's off to Arizona tomorrow.  Somewhere.
By my projections I'll be meeting up with my friends Jim and Sandie this weekend en route to Vegas!  We plan to stop near Quartzsite, AZ and Cal-Nev-Ari.