Click Any Photo To Enlarge!
Current Venue :  Tehachapi, CA
Campground: Mountain Valley RV Park
I decided on a different campsite reality this trip to Tehachapi. Instead of the back row near the meadow and abundance of wildlife, I opted for a little shade. It turned out to be a fantastic spot!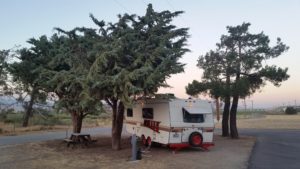 It's a full moon. I scurried up the ridge to get some closeup shots of the Tehachapi Windmill Farm, the second largest in California. There are nearly 5,000 of these windmills in Tehachapi, it is enough to power 350,000 residents per year.