Click Any Photo To Enlarge!
Current Venue :  Tehachapi, CA
Campground: Mountain Valley RV Park
Considering the fragile state of mind this harrowing trip has bestowed upon me, I thought perhaps I might find peace of mind at a nearby Buddhist retreat. You don't necessarily need a 4-wheeler to reach Taegosah Mountain Spirit Center, but it certainly would make the trek up Juniper Way a little bit easier. It is not only an unimproved road with some nasty dips, but the soft sand is very hard to grip. At one juncture my slow-going gave a molting rattlesnake nearly two minutes to finally decide to wind his way off the path (this was about the time I jumped out of the van with my camera).
The first thing that catches your eye when you pull in is this stunning "peace bell." Anyone is welcome to ring the bell by pulling back a huge log-size mallet strung to rope. It's quite an extraordinary and calming sound, and you can't help but meditate as it reverberates for several minutes.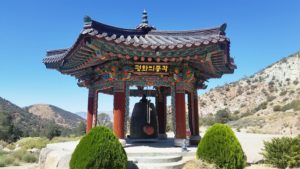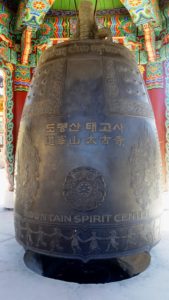 Taegosah is devoted to the Korean Buddhist faith. I didn't get the opportunity to tour the main facility as the doors were seemingly locked and, not certain if I'd arrived before official visitor hours, I elected not to disturb the individuals inside speaking in the Korean dialect.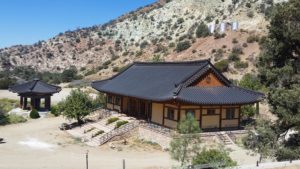 No matter, the temple up the hill was calling my name, anyway…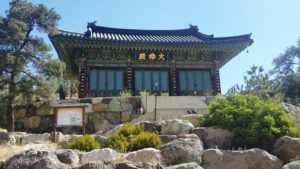 I was immediately drawn to the fact that the front of the structure is lined with Venetian doors that open up the entire facade. I can just imagine an evening ceremony with these panels open — it would have to be an absolutely gorgeous sight!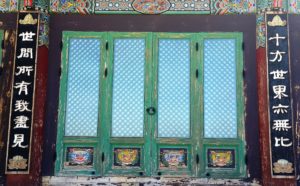 This was definitely a time a tour guide would have come in handy. I was very curious about the works of art both inside and outside of the building. For instance, on the three adjoining outside walls is sort of a picto-story of young Buddha roping a vicious-looking black bull and transforming the creature into a mellow-looking white cow. I'd like to learn more about that.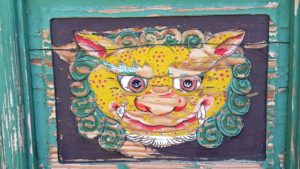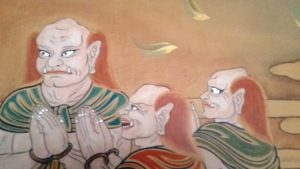 Also, who are these creepy-looking guys seemingly everywhere in the images throughout the temple? Who do they represent? Are they celebrated creatures of the faith? Or are the paintings depicting that even demons would bow down to the great Buddha?
And what are these? (E-mail me at keyward9ATgmail.com if you know).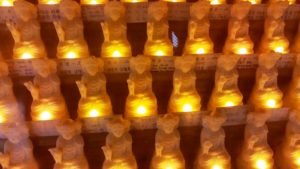 Breathtaking…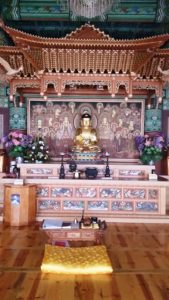 Next time I'm in Tehachapi, I want to learn more about the classes and special events offered at Taegosah Mountain Spirit Center — perhaps a yoga or a meditation class…