Click Any Photo To Enlarge!
Current Campground: Sunriver, OR
Campground : Thousand Trails
Highway 97…
After two weather days I finally made my way over the mountain passes!
Highway 97 between Redding and Bend is a photographer's dream! In fact, when I someday learn how to take decent pictures I intend to spend an entire month on this stretch of road. Add it to my bucket list.
A little north of Klamath Falls I observed several feet of snow. Clearly, quite a bit of it was fresh from the winter storms the two days prior. It's a good thing I waited it out.
Snow Camp
Even despite the white scenery during the drive, I was quite surprised to pull into my camp near Bend and find this…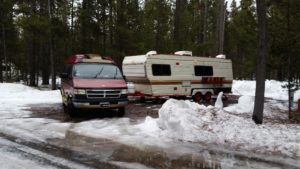 It was a little slippery backing up, but not too bad. When I was all done, I found myself quite cozy in my own personal winter wonderland. My nearest neighbor being a good 50 yards away, I've already enjoyed a movie in "surround sound" with no worries of disturbing anyone.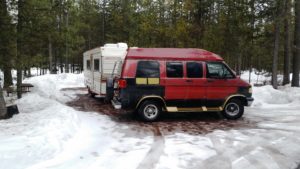 The centerpiece of Sunriver Bend Thousand Trails is a rustic little town square that includes a general store, library, seasonal snack bar, and a  courtyard where large bunnies and full-grown cats coexist together!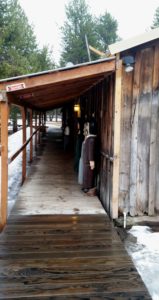 But my favorite part of the town square is the family lodge. The fireplace keeps the lodge quite toasty and, with strong wi-fi and satellite TV, it's a really good place to set up shop. Surprisingly, I've had it all to myself! It seems the winter campers are content staying put in their RVs.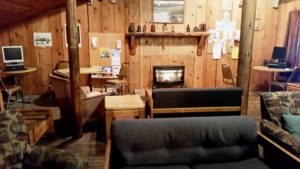 The outdoor recreation is plentiful here: River strolls, horseshoes, disc golf, hiking, basketball, and pickleball. The main lodge seems to be closed for the season…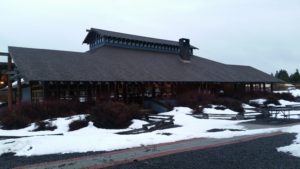 Working Vacation!
I've just been hired for a 10-day  dealing job in Pendleton!  This is one of the first pieces to fall in place during a puzzling trip. It gives me some financial stability at a time I can't seem to win at poker and allows me to feel comfortable proceeding to Seattle and taking my shot at a "satellite" to win my way into a big event.
Should I win the satellite event, I'll get to play in 5 big tournaments and  stay in the area for a couple weeks. Should I lose, I now at least have my campgrounds narrowed down knowing I'm heading towards Pendleton to work. In all likelihood it would be the Oregon Coast for 18 days.
But this is also contingent on solving my vision problems. My distance glasses are being sent to my first camp near Seattle. If they are sufficient, I can then order my reading glasses — and who really knows when and where I'll be able to secure those. My worst-case scenario and biggest fear is that I've done more damage while wearing these multi-focals and my prescription has changed once again. That could lead to one big headache of a logistical challenge: A new optometrist in the Northwest, reordering and securing my distance glasses, then reordering and securing my reading glasses. Ugh! That would pretty much "ground" me near an actual city to see the whole process through.
But it's all good. When you live on the road, life still happens.