Current Venue: Coffeyville, KS
Campground:   Buckeye Mobile Estates
Click Any Photo To Enlarge! " * " Denotes A Definition Available on the Common Terms Page
Well, this is not what you want to see when you wake up…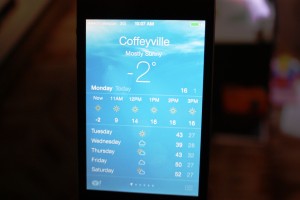 This was Monday morning.  My bathroom plumbing had already frozen and the forecast high was 18.  I knew I wouldn't have any kitchen plumbing by the end of the day — and besides that my tanks were almost full.  With no internet or facilities, this is how I justified my trip to Tulsa…
So I went there and lost a bit of money playing poker.  Not much, but quite a pricey trip when gas and hotel was factored in.  I punished myself by forcing The Ramblin RiverCat to get up early for some quality internet time.  The wi-fi was blazing fast compared to anything in Coffeyville.
But I can't afford to do that again!  I'm still up a few hundred playing poker in this area so I'm not going to get too upset.  No more hotel stays, though.  I'll dink around with small buy-in tournaments in both Bartlesville and Tulsa and, when I lose, I'll get a lot of work done on the internet that I can't get done in Coffeyville, anyway.  I'm very pleased that Tulsa is only a tiny bit further than Bartlesville, anyway — about an hour and 15 minutes away.
Despite the 40 degree temperatures today, very little of the snow and ice has melted.  What little has melted seems to be creating the slickest conditions we've had here.  This is the worst winter anyone ever remembers here.  I'll pat myself on the back if I get through this with minimal damage — two damaged sewer hoses, a leaky valve, and the filter on the kitchen faucet (ice).