Click Any Photo To Enlarge!
" * " Definition on Common Terms Page
Current Venue: Las Vegas, NV
Campground: Thousand Trails
It's hard to believe I possess 10 pairs of shoes.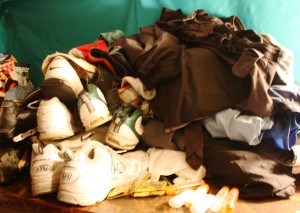 I haven't worn my Nikes in 7-8 years.  I even discovered an old pair of cleats that haven't seen action in about 15 years!  Being a simple man, 3-4 pairs will do.  I loaded up a trash bag and dropped the rest off at the Salvation Army next door.
Yup, I cleaned out the closet…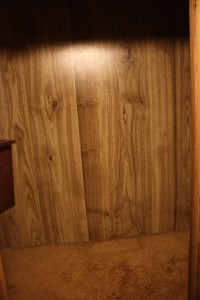 I can't tell you how much I enjoy finding time to do things like spring cleaning.  I like being organized and tidy — although my fast-paced Vegas workweeks rarely allows it.
I'd also kind of promised myself I'd take time to find some shirts to replace all my tourist-style Vegas/poker t-shirts.  After all, I'm a walking advertisement for the gambling industry about 80% of the time I walk out the door.  But the temptation's just too great. Every now and then laundry day roles around and it's just cheaper to buy 3 new Vegas t-shirts for $10 than to actually do my laundry!  It's simple economics.
Jeepers couldn't be happier about it…