Click Any Photo To Enlarge!
Where I'm At: Jamul, CA (In the San Diego hills)
Campground : Pio Pico Thousand Trails
Travel Tip : Groupon
Whenever I'm near a large city like San Diego, I always check Groupon under "Things to Do." I typically use it at least once in every major venue. When I saw a 4-hour whale-watching cruise for only $29, it was a no-brainer!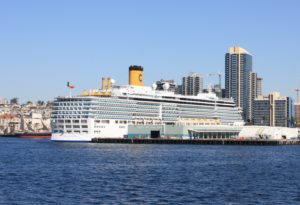 Oh, that's not my boat. Mine's a little smaller.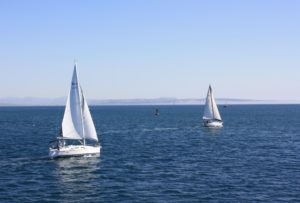 But not quite that small.
My cruise is a 3-story vessel with four decks, two indoor lounges, and a snack bar — reminiscent of the casino cruises I used to frequent on the east coast. Upon leaving the harbor it was clear skies and sunny. The captain informed us that the fog had lifted and it should be a fantastic day for a whale show.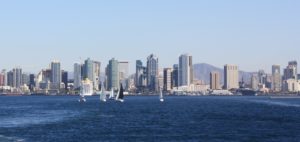 FOG!
I think the captain had bad information. The horizon was started to appear rather ominous!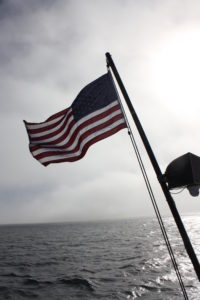 And, before long, we were in a mysterious new world. As the fog became more dense and the temperatures plummeted, everyone began retreating indoors in regular rotations. The volunteer whale-spotters were diligent, however, as they remained at their posts and scanned the seas for spouts.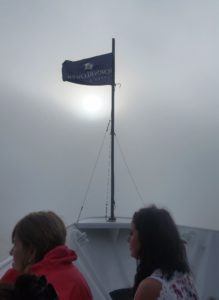 Spout! Two O' Clock!
The fog grew thicker. There were several dolphin and sea lion sightings. No whales. But despite the poor visibility and "gloominess" everyone seemed to be in great spirits!
And the volunteer crew never gave up. I happened to be chatting with the whale-spotter that saw it. She shouted at the captain above and pointed excitedly:
"Spout! Two O' Clock!!!"
She was the only individual who saw it. She relayed to the captain it was a quarter-mile away. Incredibly, on blind faith, he guided the ship there. Before long, we saw spouts a couple hundred yards away! And then they seemingly moved further out. But we kept our position and we waited.
And waited.
After spotting the creatures again we moved to a better position. And we waited again. Silence. The captain then made an announcement we'd have to begin heading back to shore soon and began apologizing for the poor visibility when…
At least 6 whales made their appearance right next to the boat! What an amazing sight — they were right below me! (I nearly dropped my phone as I scrambled to get only half the scene on video).
Even despite the fog, I managed to capture a nice image of some whale-tail.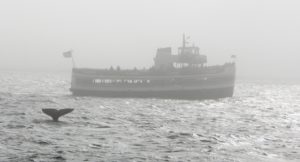 What a fun voyage. This is one I will never forget.