Click Any Photo To Enlarge!
" * " Definition on Common Terms Page
Current Venue: Las Vegas, NV
Campground: Thousand Trails
NOTE:  This post is being written from Las Vegas after being without a computer for 3 weeks.  This adventure began May 17th.
I was thrilled when Sandie Dixon told me that her and Jim were heading to Vegas the same time as I was.  We ultimately decided to stay at a couple campgrounds together en route to Sin City.  What fun!  I've never caravanned before and I couldn't think of a better way to end this portion of The Ultimate Journey* than with friends.
But rather than meet them in Apache Junction and deal with Phoenix traffic I opted to bypass America's 4th-largest city on Interstate 8.  It was my toughest travel day.  The wind gave me a little sway, I got horrible mileage, my trim and weather-stripping came loose, and I ruined another tire.  But it couldn't have happened at a better time.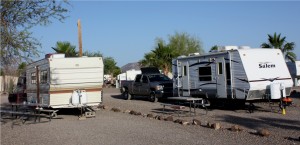 When your neighbor at Black Rock RV Park is a friend like Jim Dixon, everything's going to be all right.  I'd barely got one cup of coffee in me the next morning and Jim had everything repaired by the time I had my last cup!  The trim is nice and snug, we fixed a leak, and…
Well, remember that tire that was missing 1/3 of it's tread and had to be replaced in Texas?  Well, with only a couple-hundred miles to Vegas, I rolled the dice.  We put that tire back ON!  You can only imagine how bad the newly-damaged tire was.
It's amazing how much you can actually miss seeing at your own campground.  This is my 4th time at Black Rock RV Resort and do you know when I discovered there was a computer on premises with internet access? (Which comes in handy when your computer dies).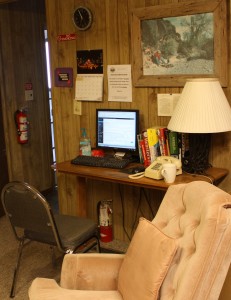 Answer:  About 30 minutes before tearing down camp to head up the road!
So, after a couple days of R and R in Black Rock, we then took our RV Caravan up to Cal-Nev-Ari and stayed another 2 nights.  Jim would have his own challenges with his site's connections, but nothing he didn't have an answer for.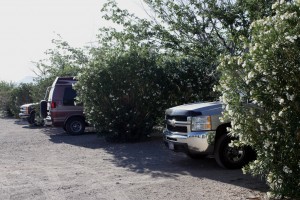 On Day Two The Dixons visited Christmas Tree Pass while I spent some time in Laughlin.  I knew they'd have a great time.  Between the two of them, they took nearly 200 pictures!
Off to Las Vegas.  We're staying at separate parks here and I've been incredibly busy with getting a computer up-and-running.  I am pleased to say that, out of necessity, I now have a "mi-fi."  So far, I love it!
I did have the opportunity to show Jim and Sandie part of Wetlands Park.  We explored a pond I never saw last time I visited.  I have yet to see one of the desert beavers but still had a nice time.  It's still so hard to believe this lush scenery is right in the center of Las Vegas!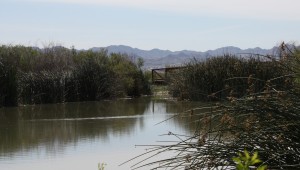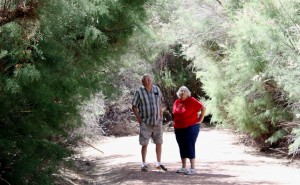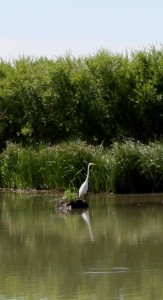 I've spent today trying to get all my ducks in a row and launch an e-Bay auction before I visit with my friends again this weekend.  I also have orientation on Sunday.  It's going to be a busy few weeks!