Click Any Photo To Enlarge!
" * " Definition on Common Terms Page
Current Venue: Las Vegas, NV
Campground: Thousand Trails
Nothing new to report lately except that I'm still searching for a job and fighting with my cell phone companies.  Yes, both Sprint (my current company) and Verizon (my former company) have really been sticking it to me.  I won't dwell on it on this blog, as I'm trying to keep the negativity to a minimum but I plan to create a separate webpage to share my experiences about the dirty tactics cell phone companies use these days.
I haven't gotten called for a single interview yet despite nearly 10 years experience in the poker industry.  I do have my foot in the door at Station Casinos as an on-call dealer since I dealt a 2-day tournament for them back in June.  However, I'm just another name on the list — so this weekend I'll visit all 5 casinos and get better acquainted with the managers.   (Unfortunately the timing is bad because these casinos recently pulled a big promotion that they were losing money one and are having a temporary decline in business).
Red Rock is the furthest away, but I'm friends with the manager there.  If you're familiar with Red Rock Canyon, you may have deduced that the casino is not far from there.  If you look closely, you can see them in the bright white sunlight of midday Vegas…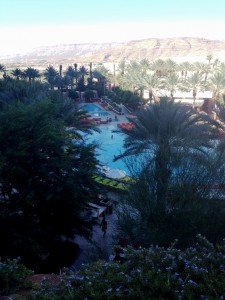 It never ceases to amaze me how vast these resorts are.  There's always something new to see each time I go back to a resort that I've been to a dozen times before.  For instance, I don't believe I've ever laid eyes on this swimming pool.  Heck, I didn't even realize they had a conference center — there's only an entire floor dedicated to it!  In fact many of the banquet rooms extend out onto balconies overlooking the pool.  I like this mirror…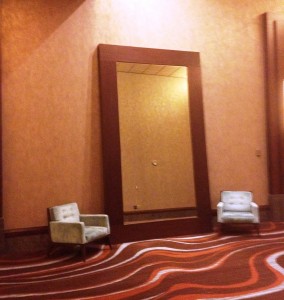 Who knows, maybe I'll see plenty of this in the next couple months…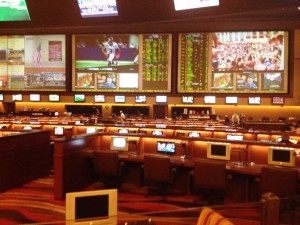 That's the sports book.  It's right next to the poker room.
So, my latest plan : Deal major poker tournaments in Vegas combined with on-call work both as a dealer and banquet waiter.  Work my at-home sales job back into the mix after I get settled in.  Get my business going.  
All this would get me total scheduling flexibility around my eventual trade show/travel schedule.  I'd like to set up a circuit in the southwest while I'm grounded here in Vegas.  Then I'll expand when I'm traveling full-time again.
If the on-call thing doesn't work I'll seek work at a restaurant either here, southern Utah, or northern Arizona — at least until next summer when I come back to deal the World Series of Poker.
Here's an exciting realization:  If I get things to work out here in Vegas, I can probably travel full-time during the off-seasons!   There's about one month in late spring and two months starting mid-July.  Wow!  
Some easy one-month trips could include Arizona/Grand Canyon, Central California/Lake Tahoe, Southern Utah.  Some two-month trips I might stray as far away as Oregon, New Mexico, or Colorado!  But first things first…