Click Any Photo To Enlarge!
" * " Definition on Common Terms Page
Current Venue: Las Vegas, NV
Campground: Thousand Trails
I've been dreaming of a desk for about a year, now.  After all, I had little use for the dinette/second bed, as I rarely entertain guests.  Also, my office space has been discouraging to me for a long time, with little room for more than a laptop, and clutter bearing down on me constantly.  I couldn't afford to hire someone to customize one, bu I simply couldn't wait any longer…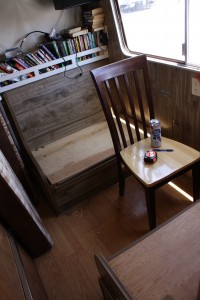 I first went next door to the Goodwill an purchased the chair for $3.  As you can see, I pulled out all the necessary tools for someone that doesn't have a handy bone in his body.  I then paid the maintenance man $10 to cut me a couple pieces of plywood. Lastly, I toured the park and scrounged up a bunch of cinder blocks.  Total Cost : $13.
Here's the end result: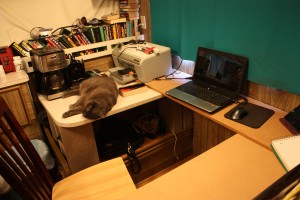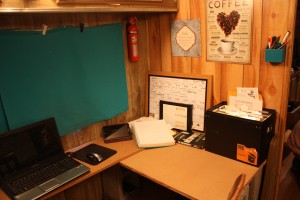 Not a single nail or screw.  Ok, maybe it's not "pretty", but it's 10 times more functional than I had before!  Not only do I have 4 times the desk space, I now have plenty of new storage space below…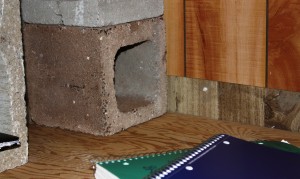 Last, but not least, I now have shoe racks!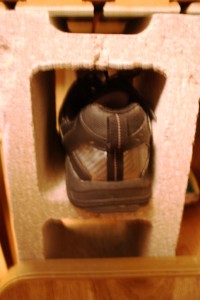 Despite it's crude design, I would daresay this pile of sticks and bricks is roadworthy — it's solid.  Although I doubt I will pull out of Vegas with it.  I'll almost certainly have a handyman custom design a new one for me before then.  But in the interim this will give me the opportunity to play around with it and tweak it before I go with something more permanent.
In other news, the World Series of Poker has finally ended.  I'm not taking any work for two weeks as I try to qualify for unemployment insurance — and then build on that.  I'm finally beginning to feel like I live here…