Click Any Photo To Enlarge!
" * " Definition on Common Terms Page
Current Venue: Las Vegas, NV
Campground: Thousand Trails
The locals would almost have you believe Red Rock Canyon is just a drive-through park with some scenic overlooks.  Completely doable on a rare overcast day in Vegas, right?  I also figured since there weren't really any trails and I had errands in the morning — I'd just wear my jeans.  Oops.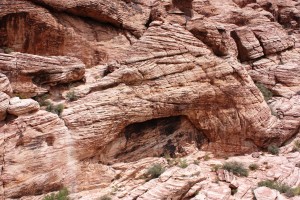 There were trails everywhere.  I wanted to go hiking.  But as the clouds cleared up, the 103 degrees felt like just that.  I was going nowhere in those blue jeans.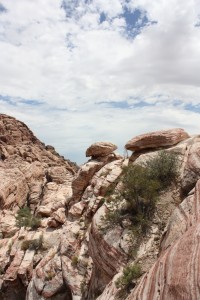 I should know better than to discuss tourist destinations with locals.  They never really know what they've go in their own back yard.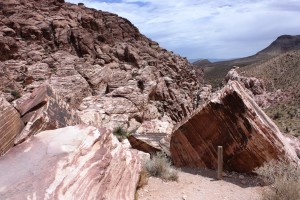 But now that I'm a local, I'll have plenty of time to explore the canyon.  In October.  Meanwhile, here's my favorite scene from the drive-through version…