Click Any Photo To Enlarge!
Current Venue: Las Vegas, NV
Campground: Thousand Trails

I'm really beginning to settle into my part-time residency in Las Vegas. I'm preparing to rent a mailbox,  a storage unit, and eventually apply for a Nevada drivers license and tags — it's a process.
I'm also realizing that my June/July summer jobs really requires my presence in Vegas for most of May, as well. I need this time not only for meetings and credentialing, but also for catching up on any projects that need attention before I begin working 7 days a week.
Most importantly, I've determined it's a time for enjoying Las Vegas entertainment! I rarely have to pay anything for tickets, thanks to my connections. And when I do, it's either a good locals' deal or a Groupon that gets me in the door.
Recycled Percussion was formed on kind of a fluke when the group competed at their high school talent show with some drumsticks and buckets. For the next ten years they toured the country before landing on America's Got Talent and then making Las Vegas their home base. These days they perform at Planet Hollywood.
Just be aware that when you attend this show, you are expected to participate! Prior to entering the theater you're given a drumstick and asked to select a pot or pan. I selected a nice-sized pot to produce a solid bass sound…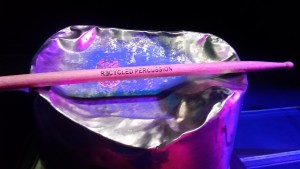 After some fun audience-participation numbers, Recycled Percussion went to work and really showcased their talents. I'd recommend this show to anyone…