Click Any Photo To Enlarge!
Where I'm At: Pacific City, OR
Campground : Pacific City Thousand Trails
Campsite Bunnies
My drive to the Oregon Coast when rather smoothly until I ran into some rough road less than 20 miles from my destination. With my poor vision, I managed to hit a monstrous road hump on a bridge at a brisk pace. Upon my descent I was almost certain this would be the impact that would unhitch my home in a nasty crash. Somehow everything remained intact. There may be some damage, however. Both the rear of the van and 48's tongue are now groaning in protest — this will have to be monitored.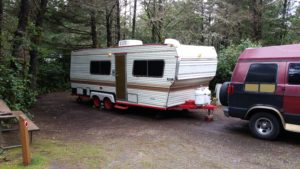 This campground quickly shot to the top of my list of favorites. I can't possibly cover all the fun amenities of Pacific City Thousand Trails in one post. But I'm going to return — lots. And, in future posts, I'll share some pictures of the lodge (where I spotted a whale) and the recreational facilities. This adventure was about unwinding with nature…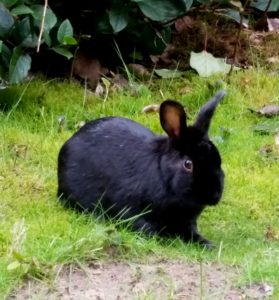 And it seems appropriate that each campsite gets it's own bunny. These critters are everywhere!
A Walk on the Beach 
The beach trail from camp takes less than 10 minutes to walk. Nobody seems to mind the rain, certainly not me! I loved watching the waves crash into the rocks…
I doubt you need a narrator for the next few pictures…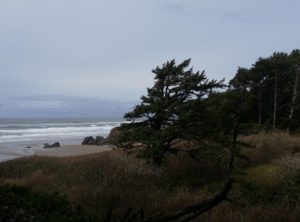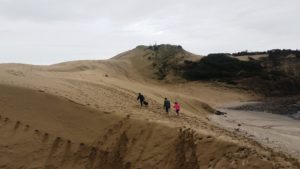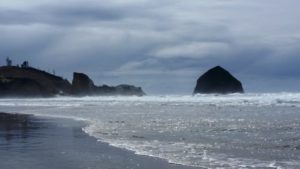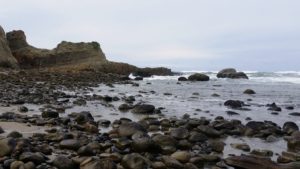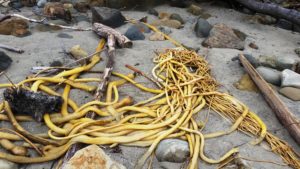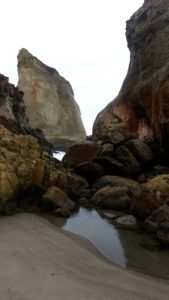 Ahhh. This week is exactly what I needed. I saw less than 3 miles of Oregon coastline the entire week — but what more did I need!