Click Any Photo To Enlarge!
Where I'm At: Rachel, NV
Campground : Little Aleinn RV Park
Dodging Cows on E.T Highway
Highway 375 is a lonely stretch between Alamo and Warm Springs, Nevada. While most U.S. residents are unaware of it's fame, people from all over the world come to visit the back gates of Area 51 and have a meal at The Little Aleinn in a town of 53 residents — Rachel, Nevada.
This is open range for cows. During my many years of traveling, I've come across many signs for animal crossings — but never at regular 100-foot intervals! Apparently there's good reason for this. Sadly, in a stretch of less than half a mile, I saw 3 dead cows along the side of the road. I took the warning signs seriously and slowed down considerably whenever I spotted a herd within a hundred feet of the road.
The Little Aleinn
As you can imagine, a town of 53 residents doesn't look like much. There are just a few trailers and small houses spattered across this small patch of desert. And each one seems to be accompanied by at least 3-4 junk cars or empty campers. Truth be told, it looks like a deserted junkyard worthy of it's own horror film. It's a classic setting befit the lonely highway behind Area 51.
I knew I was going to like it here. I was greeted with a warm reception by the folks in the diner as they complimented me on 48 Ugly's recent paint-job. My waitress pointed me to my campsite. It appeared there were only about 4 sites among some breezy little trees next to the motel rooms (trailer-style). For $20 you get electric and water. There's also a dry-camping lot where you can park for free.
The restaurant is about what you'd expect of a diner in the middle of the desert — and I wouldn't want it any other way! There's the counter, where most of the locals visit and lost tourists get directions to the Area 51 gates. There are a few tables, where other tourists keenly observe everyone who walks through the door. And, of course, there's the gift shop, where your really can purchase some fantastic memorabilia (I chose a couple bumper stickers).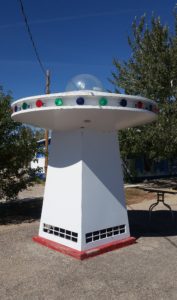 The People Who Stare at Gates
So what does one do out in the middle of nowhere on Highway 375? Well, after you get proper directions to the top-secret military facility/tourist attraction, you drive 20 minutes down a dirt road to stare at a gate. Then you take a couple pictures and off you go! It's great fun. And folks from all over the world come to do this.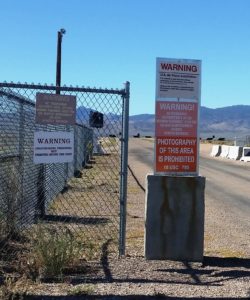 As you can imagine, observing the People Who Stare at Gates is even more interesting than the gates themselves. When you sit out front of The Little Aleinn, you quickly realize that every single vehicle traversing these hills on Highway 375 stop at this little cafe. It's a fantastic place to people-watch!
And there's a good chance you'll run into Smitty and Riley. Smitty was the other lone resident in the RV park during my stay. He's a full-time RVer on a seasonal 3-stop circuit — Washington, Quartzsite, and Rachel. He loves people, and he'll greet every new tourist that pulls up. Oftentimes his dog, Riley, will beat him to it. That's when Smitty might call out something like…
"Hey, get back here! They ain't gave me 2 dollars yet so you're still my dog!"
When is a Lake No Longer a Lake?
The funny thing about this region is that there are many lakes — lakes with actual names — that have absolutely no water. In fact, Groom Lake Air Force Base (Area 51), uses Groom Lake as their landing strip!
I'm not sure this particular lake has a name. It's kind of nice me, Smitty, and Riley had the whole place to ourselves…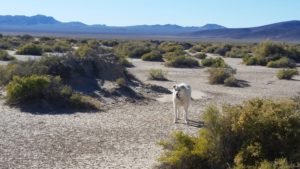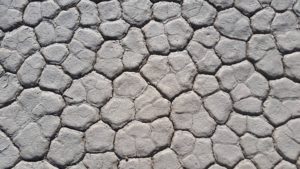 This one is definitely worth another visit.