Click Any Photo To Enlarge!
" * " Definition on Common Terms Page
Current Venue: Las Vegas, NV
Campground: Main Street Station
Recently Updated: 7N7
It occurred to me the other day that, even though Main Street RV Park does not have a pool, there might be one that we have access to. After all, Boyd Gaming has 3-4 hotels right here in walking distance. I was right! After inquiring at Main Street Station, they informed me I could go to California Casino and present my room key (restroom key) at the front desk to gain access.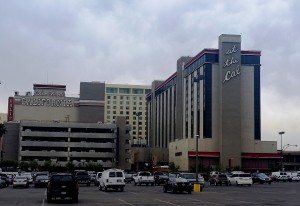 So, on the 13th floor I discovered perhaps the tiniest hotel pool I've ever seen. It's 2'8″ at the shallow end and 4'8″ at it's deepest. And it's not heated. This may not seem like a big deal in Las Vegas, but we're still just cracking the 90's here and the water is surprisingly frigid. That's quite alright. This late-morning swim hit the spot.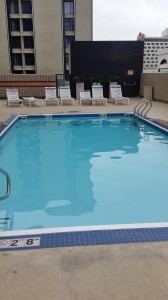 While the pool is clearly outdated at The California, I was quite impressed with how well it is maintained. Everything is spic and span, neat and tidy.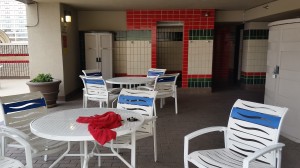 And I love the setting. In recent months I started parking on the top floors of parking garages not only to take in great mountain views, but especially the neighboring skyscrapers — it's almost surreal taking in these majestic buildings minus the noise of the city below. And while the downtown towers might be puny compared to the monsters on The Strip, they're equally fascinating to me.
On one side you see the Main Street Station and the Red Rock Mountains in the distance. On another is the second California tower and Binions. Along the "length" of the pool is one of the Las Vegas Club hotels…so, what's wrong with this picture?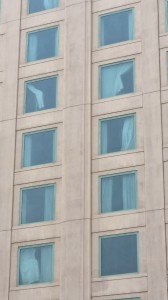 Las Vegas Club has not taken hotel reservations for a couple years, now. While the casino is still in full operation down below, hundreds of hotel rooms sit vacant (there are no announced plans to renovate them).  Ghost-hunt, anyone?
Vegas is in such a constant state of change that it's nearly impossible to keep up. Out with the old, in with the new. As I walked back to cut through the Main Street Casino parking lot I soon realized why a construction crew had been hovering over the marquee for the last week — a brand-new  high-def movie screen — for a parking lot! Amazing.