Click Any Photo To Enlarge!
Where I'm At: Quartzsite, AZ
Campground : Scaddan Wash (Free BLM)
Day One : I Usually Know How to Trick My Garmin…
Although my GPS is very reliable in getting me to my destination, it doesn't always choose the most optimal route (for instance, steep grades). I sometimes have to get creative to trick my little navigator and, as a team, we generally get the job done without much difficulty.
But on this day I simply couldn't figure out how to bypass one little obstacle — about 100,000 pedestrians at an outdoor swap meet. And I really didn't know where I was going. After overshooting my turn into the enormous crowd in the hopes of getting rerouted, my Garmin protested by trying to send me on an alternate route — 69 miles out of the way! Touche.
I didn't exactly have reservations anywhere. And, when I found myself at sort of a dead end road, I discovered I was at a free BLM — Scaddan Wash. I parked it.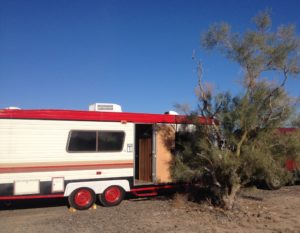 Day Two : Just Follow the Yellow Boot Road
It can be tricky navigating the BLM's. Being a half-mile from the entrance, you have to look for landmarks. Some of the camping groups create their own. For instance, after a few blunders trying to find my site at the end of Day One, I studied the landscape a little closer and discovered the mysterious yellow boots atop poles and nestled in the brush. But you really have to be looking for them. Eventually, after my visitors Bob and Ruby overshot the first boot, I was able to guide them through the expansive desert for a wonderful little cookout.
I grilled some burgers and dogs. I daresay, my cooking was so tasty Bob put on a few extra pounds and actually busted right through his chair!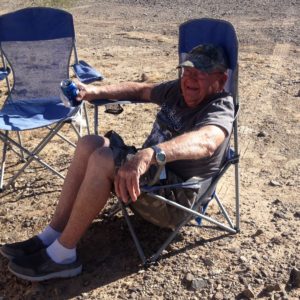 Day Three : The Quest for Gold
Bob is 83 and I swear to you he has more energy than I do! Equally astounding is his passion for his hobby — treasure hunting. So Ruby packed our lunches, Bob loaded the metal detectors, and off we went! Bob was fearless navigating the washes in his new heavy duty 4-wheel drive.
At our first stop I managed to find one bullet and lots of white quartz…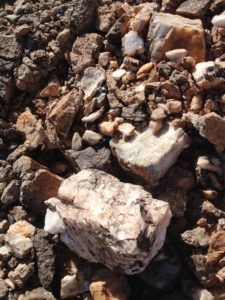 Then we found a really fun wash a couple miles away. It was then I really got to digging — as my metal detector went off every few feet! Scrap metal and tin cans. Still fun, though!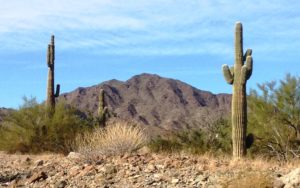 Day Four : A Quartzsite Tradition
The Big Tent and miles of swap meets. Literally the entire town becomes one big flea market where you can find pretty much anything. I added 10 license plates to my collection and quite a few other items I'm pleased with. I spent a total of $60, a number I'm pleased with considering I hadn't spent a penny on my lodging.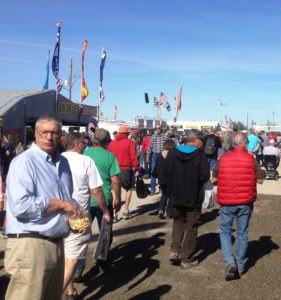 Another Quartzsite tradition is eating at least once at The Yacht Club. Our entire gang ordered the fish and chips and finished every last bit of it. (This time Bob did not fall through his chair). It was a perfect ending to a terrific visit.
I love meeting friends at the Q.