Click Any Photo To Enlarge!
" * " Definition on Common Terms Page
Current Venue: Las Vegas, NV
Campground: Thousand Trails
Summer moves pretty quick when you're working 7 days a week.! With nearly 50,000 extra poker players in town for the World Series of Poker, dealers are in short supply and in great demand. In fact, I'm working 6 days a week at The Venetian's Deepstack Extravaganza, and then trying to work two shifts on my day "off" at other properties — for instance, tomorrow I'll work at Binion's and Planet Hollywood. It's a juggling act. (I'm attempting to stay in good standing with each property so I can pick up additional special-event or on-call work throughout the year. So next day off I'll rotate Golden Nugget back into the mix).
Of the four properties I'm working, Planet Hollywood is the funnest atmosphere. The Goliath Poker Series is being held on a mezzanine overlooking the casino floor. Not only are we treated to the music and festivities below, we're amidst the convention center, restaurants, and theaters like the Jeff Dunham Show. I think poker pros, who are normally very intense, can't help but lighten up in this high-energy environment.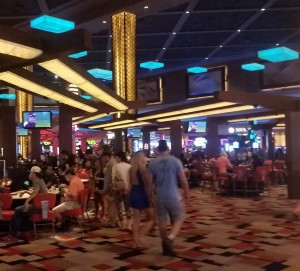 Planet Hollywood also features a popular shopping mall called The Miracle Mile. While many of the mega-resorts  have popular shopping outlets, this one is probably my favorite. (Not that I actually do any shopping. I just like the ambiance). This casino might have the most theater acts in all of Las Vegas…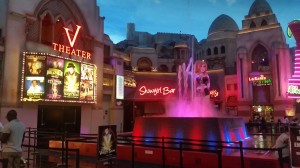 It's becoming more and more clear that Vegas is supposed to be my home base. I belong here. But it does present some challenges. One of the biggest head-scratchers, as I prepare to launch RiverCat Productions, is how I'm going to handle my business mail and deposit checks when I'm on the road. Establishing residency here is going to be a long process, but the most important part is nearly in place — having enough seasonal and on-call jobs to keep me busy when I'm in town.
It appears I may have tournament work at The Venetian nearly 4 months out of the year, with more special event opportunities at Golden Nugget and Planet Hollywood, regular on-call work at Red Rock, and sporadic on-call work with Binion's, Casino Job Center (a staffing agency), and Green Valley Ranch. (This is not to mention the additional work I can pick up as a banquet server).
How great will it be if I actually pull it off! Can I really have enough work here and travel 4-6 months out of the year? I'm pretty optimistic now. And determined…