Click Any Photo To Enlarge!
Where I'm At: Jamul, CA (In the San Diego hills)
Campground : Pio Pico Thousand Trails
Okay, So Maybe It's a Little Odd…
I'm a big fan of RV Park Reviews, and read them closely when I'm shopping for parks outside the Thousand Trails system. But at $3 per night, I'll try any Thousand Trails park at least once! Pio Pico has a bad reputation, so I just made it a 4-night reservation en route to Idyllwild and Palm Springs.
Almost immediately, the park had appeal. After all, not every campground has a nice general store and a restaurant on the premises!
But here's one of the big gripes. Pio Pico is divided into two camps — the "north" and "south" (also referred to as Crossover). The south camp offers more amenities : The large rec hall with restaurant and wifi, 2 swimming pools, general store, and some spotty cell phone coverage. Only the south camp offers full hookup. But you have to begin your stay in north camp before you can cross over…
The dreaded north camp is across the highway. It offers different recreational activities, such as a little-used pickleball court and the adult lodge with brand new pool tables…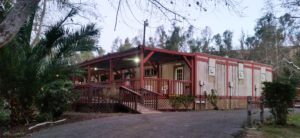 The sites do not have sewer, which did not matter to me only staying four nights. I have to say, I've stayed at worse campgrounds!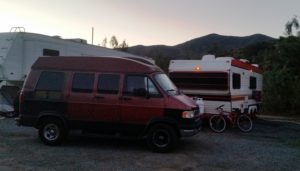 But I did run into a bit of a snag. After smelling smoke for the second time going towing downhill en route to Pio Pico and having a bit of an issue with my tires "spinning unevenly" I discovered I had a caliper on permanent lockdown and a "stuck brake." I would have to spend an entire costly day at a shopping center getting the entire front assembly replaced.
So, after the power outage windstorm day and now this — two days had gone to waste in the San Diego area. Should I consider extending this reservation and cancelling the others?
After finding a fantastic pickleball group on Coronado Island, the answer was simple:
It was time to play the Crossover Game…
"Sewer Social"
Coffee, cookies, and a little meet-and-greet with the other contestants! The party begins at 8:30 am where the ranger posts the available sites on the south side. Then everyone tours the park and picks the sites they like. At 9 am the ranger calls your name and you have the option of choosing your site or "deferring."
If you defer, you are added back to the list. Later in the day, new arrivals are then added.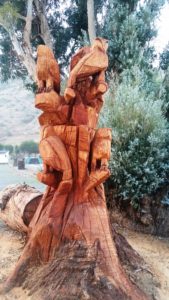 On my first day playing the Crossover Game, I was 15th on the list and only two sites were available.
On my second day I was ninth on the list with 4 sites available. I was after the best site in the entire park — E46. And I knew I had a chance! With a narrow squeeze between some trees, most folks would have to pass on the site due to the size of their rigs. I guessed correctly. With only E46 remaining, everyone deferred and I snatched up the beauty!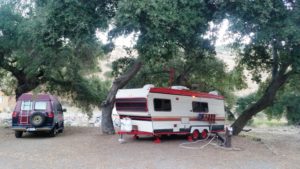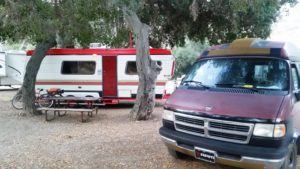 I managed to secure the best site in the entire campground! I have constant shade, only one neighbor, and plenty of room to park my tow vehicle on my corner lot.
I have many new bird friends here…woodpeckers, hummingbirds, wrens, and ravens. But it's the large ground squirrels that are the most entertaining. There is one pair in particular their own loop trail up the hill and back down to the wash. They'll sometimes play for 20 minutes at a time. Cheap entertainment for The Ramblin' RiverCat.
The Crossover Game is not all bad. After all, if you plan right, you can choose your favorite site in the park and defer your way to the top of the list to secure it.
Good Eats and Meeting Friends
The rec hall is fabulous. I reconnected with a Palm Springs camper friend, Bob, during breakfast one day and have enjoyed some delicious food at the very reasonably priced Coyote Canyon Cafe. During the Super Bowl I ordered the appetizer sampler a finished off about 5 pounds of food. Word of advice : The pancakes are awesome, but HUGE. It's not on the menu but one pancake is $1.50.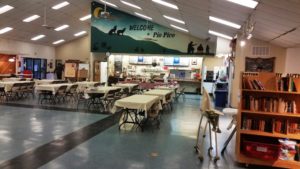 And how often do you find a setting like this at the swimming pool! This is the adult pool, also with a nice semi-enclosed hot tub. Other amenities in the park include a family pool, kid's rec hall, pickleball, basketball, softball, volleyball, horseshoes, shuffleboard, pool hall, adult lodge…and on and on and on. Your really can't find many campgrounds that offer this much. (I think the reviews are a bit harsh). So, if you're willing the play the Crossover Game, this park has a lot to offer.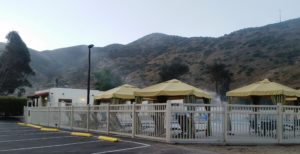 I don't think I'm going to be able to tear myself away from San Diego even after my two weeks here I'm up. I'm searching for another camp for a few extra days in the area.