Current Venue:  Las Vegas, NV
Campground: Riviera RV Park

I'd passed by the storefront of Pawn Stars fame on many occasions during my stay in North Las Vegas — it's on the way to The Strip.  The long lines to get in had always dissuaded me from stopping until a few days ago.  Besides, I'd already spotted the "old man" on one occasion and I wasn't sure what more I could expect.  A good bargain?   Well, all these other folks must be in line for good reason…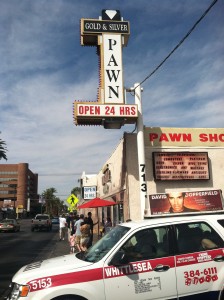 The security guard informed me that I only had a few minutes left to browse because they were getting ready film a new show.  Interesting.  I'd always wondered if the shoppers in the background were for real.  It had always struck me as "odd" that there were people actually shopping during filming while completely oblivious to the cameras.  Were they actors? I'm still not entirely sure.  Perhaps they simply allow a certain number of people to hang out with the condition they're pretending to actually shop.  I can tell you this:  During "normal" business hours, the store looks nothing like it does on television.
I guess it's the natural order of things that a business-turned-reality-show should evolve into a gift shop.  Well, it did.  With no less than 15 employees selling t-shirts and "I love Chumlee" buttons, this place is just a circus — with all the Pawn Star paraphernalia crammed throughout the center of the store (I'm assuming the displays are all on rollers for easy removal).  It's tacky.  But who can blame them?  This is what the public wants!  I have to suspect the gift items account for better than 90% of their sales.
The Riviera RV Park is a no-frills campground.  But when I was shopping around last week, I knew this would be the one.  The location is very convenient to both The Strip, Downtown, my gym, and Starbucks.  The monthly rate is very affordable and, despite it being only a block from a busy intersection, it's incredibly quiet.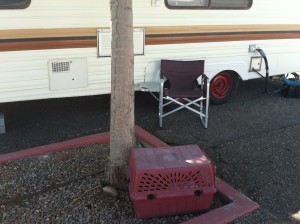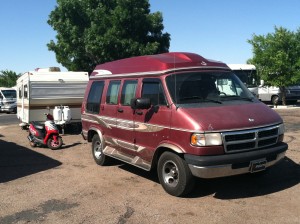 Most of the guests here are residents.  And I really don't mind.  I think having much the same neighbors for a couple months might be an interesting change of pace.  I've always enjoyed seeing what different people are doing with their campsites, but I find even resident-RVers are pretty creative.  How about a tiki gazebo?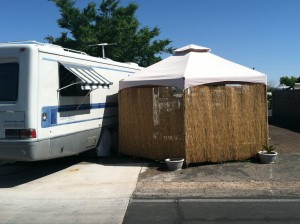 And this little man-cave…who needs windows?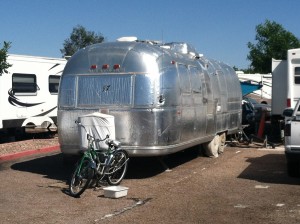 If you know me well enough by now, I've already given the pool a test-run.  Yes, it's old, but very functional.  The water's warm and the hot-tub works jussssst fine…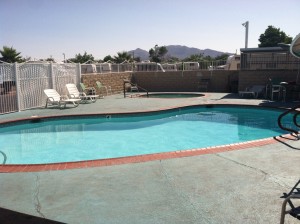 Next Story: Spinning My Wheels