Click Any Photo To Enlarge!
Where I'm At: La Quinta, CA
Campground : Lake Cahuilla Recreation Area
Day Trip : Kenny Irwin's RoboChristmas and Candy Cane Lane
RoboChristmas
When I heard about Kenny Irwin's RoboChristmas, I simply couldn't resist the largest residential Christmas Light Display in the world! I simply couldn't imagine 7 million Christmas lights in one person's back yard.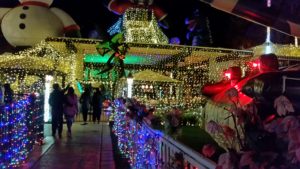 I really had no idea what I was in for. Kenny Irwin constructs gargantuan sculptures out of appliances and household items — it's like recycled art on steroids! Most of his exhibits are bizarre, to say the least. (Note the microwave head. Irwin really likes microwaves).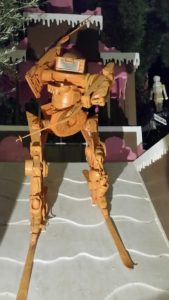 He basically turned his home into a small theme park.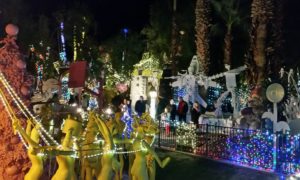 There's even a roller coaster…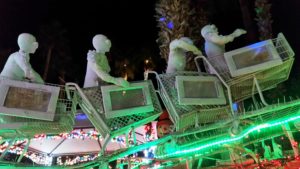 The endless art displays are astounding. Some of my favorites include the "microwaved microwave" and the toilet merry-go-round. The man has a sense of humor!
Candy Cane Lane
Also known as Minerva Lane, these residents really do it up!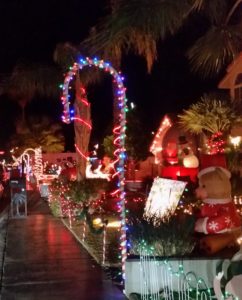 Perhaps less than a mile long, you can choose to join the procession in your car or get out and walk. I did both! It was great to get out and enjoy the aroma of campfires and the sound of children's laughter. The decorations were fantastic.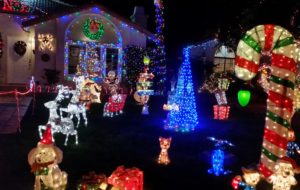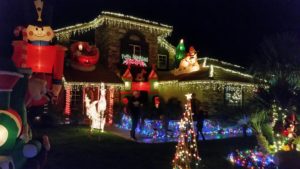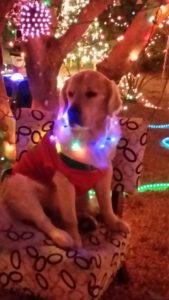 A Peculiar Kind of Christmas…
I won't lie — it's been a strange holiday for me. As soon as I'd been able to conjure up a little Christmas spirit, it sort of disappeared just as quick. It's been a little "funky."
2017 has been about "letting go." Letting go of Jeepers. Letting go of normal good health. Letting go of relationships that no longer serve me. The entire year has been learning how to adapt and accept change.
And now I wonder if Christmas will ever be "quite" the same, again. It probably will…
I think I'm mostly missing having my companion with me right now. I miss you, Jeepers!