Click Any Photo To Enlarge!
" * " Definition on Common Terms Page
Current Venue: Las Vegas, NV
Campground: Thousand Trails
Camp is really starting to shape up.  Here's the "front yard."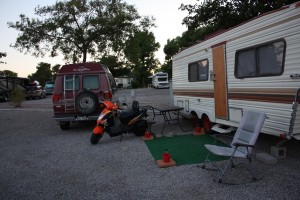 The back…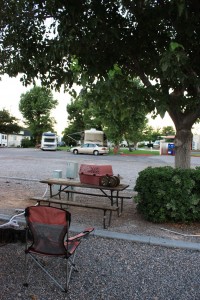 If you're a keen observer you may have noticed I have two picnic tables.  Yup!  I got greedy and stole an extra one.  The one in the back yard under the tree is a must, but the one in the front is very handy for locking the scooter up to and having a place to cook my hot dogs outdoors during the hot weather.  I don't know how long I'll get away with this — it's off-season right now — but I suspect sooner or later park management will be knocking on my door.
And now, another look at my crude, but super-functional desk…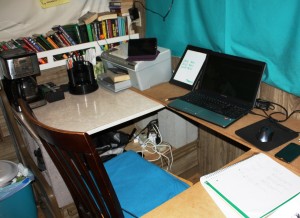 The desk is now broken in.  It's been getting about 50 hours of use each week since becoming a member of the team.  You are looking at the National Headquarters of RiverCat Productions (much more on that, soon).
More importantly, Jeepers is very happy with it.  Now that I have plenty of workspace, he now has his own personal spot where he can always lay down beside me while I'm working.  And, when he's feeling adventurous, he likes to explore the cubby spaces underneath.  He's having a great time with it!
I force myself to enjoy a few minutes of leisure time each morning.  My latest read is a dandy…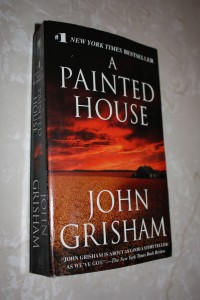 If you are a John Grisham fan, this one's a must.  A Painted House is NOT a courtroom thriller.  It's about a young boy growing up on a cotton farm in rural Arkansas, and being forced to make some very adult decisions upon witnessing a violent crime by one of the seasonal workers.  A Painted House is a page-turner.  It's a great suspense novel written as a beautiful classic.