Click Any Photo To Enlarge!
Current Venue : Pahrump, NV
Campground: Preferred RV Resort
It was a nice, short drive from the rural Lakeside Casino RV Park to Preferred, right in the heart of town. From here, you can walk across the street to the town's main casino, Pahrump Nugget, as well as Gold Town Casino. Also in walking distance is Smith's, McDonalds, SuperPawn, Taco Bell, and much more. Preferred allows you to stay at the 50% Passport America discount for up to two weeks.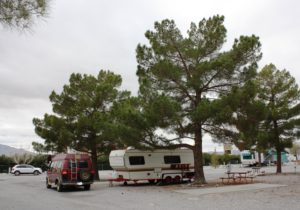 I wasn't sure I'd love this park at first. The smaller back-ins have strange setups. The electric and water is situated way in the back, while the sewer is situated near the front. Even with the sewer hose extension everything was quite a stretch — my electric cord elevated a few inches off the ground. (I may need to buy a second sewer extension next time around). But when it was all said and done I found myself set up in a terrific spot between two lovely trees.
And things kept getting better. Despite the park being less than 100 yards from a "major" intersection, Preferred is surrounded on 3 sides by a quiet country setting. During my first stroll around the resort, I instantly felt at home. This koi pond makes a nice centerpiece…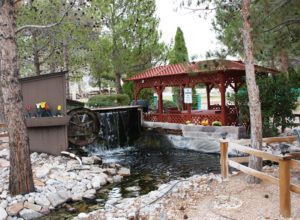 I've never featured a propane station before. But when you find $2 propane on the West Coast it is newsworthy. Unfortunately, it was discovered this time around that my tanks were expired! I made my way to Shoshone Propane  and discovered one of my valves had to be replaced. After the repair, 2 fills at $3.20 per gallon, and re-certification; my eagerly-anticipated discount gas bill turned into a $100 pop. Oh well — next time.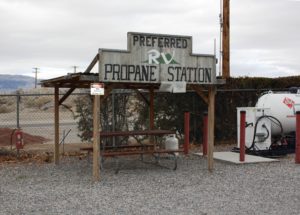 The pool is fantastic! Outdoor by summer, indoor by winter, this retractable structure seemingly has it's own weather system — with condensation falling off the ceiling creating light rain showers from time to time. There are water aerobic classes daily so some of the elderly ladies have a place to gossip, and water volleyball 3 times a week for us serious athletes.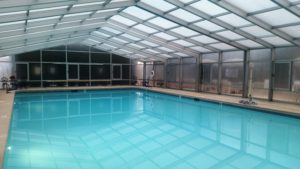 How's this for an intimate hot tub setting! Another Perfect Ten…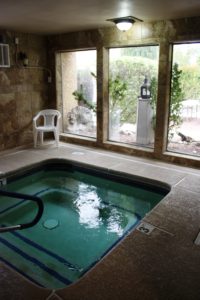 My recent stay at Lakeside Casino RV Park was a little disappointing. Despite having a beautiful bi-level clubhouse on the lake, I never saw the inside of it in 2 entire weeks. There was not one activity aside from a private rental and it just seems to me that over the Christmas holiday they could have opened the doors and maybe offered the campers cookies and kool-aid. The message is clear: Want to have fun? Join us at the CASINO. It's a beautiful campground, but in the future I'll only visit for fair weather outdoor activities.
There isn't a lack of activity at Preferred. Not only are there card games in the clubhouse every night, but several activities are offered throughout the day. Special breakfasts, dinners, and pool tournaments are among some of the other offerings here. In the TV room it's not uncommon to see 2-3 different people working on jigsaw puzzles.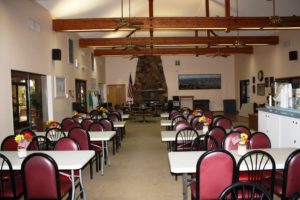 But there's another facility on campus devoted to activities more related to hobbies: A workout room, sewing room (where the nightly poker games are held), stained glass classes, and a woodworking shop!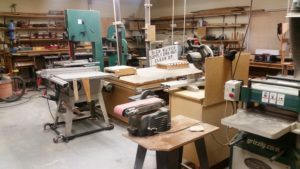 In fact, some folks even camp here specifically to enjoy the access to this little operation. I texted a picture of the woodworking shop to a recent full-time-RVer-convert of mine and he swears that when he makes his way up here he will spend every day right here in this room.
Very pleased with this one. I'm currently writing this post on a desktop computer enjoying high-speed internet! In 5 days I've gotten more done than in the two previous weeks and I see this being a perfect month-long spot where I can have fun and be productive. In fact, I intend to make this home during my next short work layover…