Click Any Photo To Enlarge!
Where I'm At: Pacific City, OR
Campground : Pacific City Thousand Trails
Pacific City and Cape Kiwanda are famous for their great tradition of dory fishermen. A dory is a small flat-bottom and I've been told that, even despite a decline in recent years, the area still has the largest dory fleet in the world. While I didn't witness any of these fishing boats, perhaps due to the weather conditions, my stay in Pacific City will be more like two weeks next time so I can investigate this more.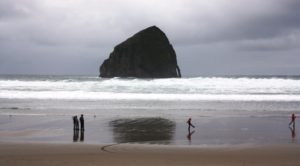 Haystack Rock is actually one of two such tourist attractions on the Oregon Coast with the exact same name — the other in Cannon Beach. The Pacific City version stands quite a bit taller at 340 feet.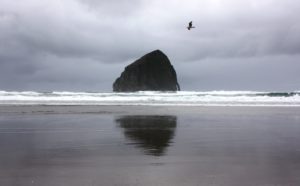 Lots of folks seemed to like climbing the gargantuan sand dunes but I preferred exploring the tide pools and observing the magnificent waves slamming into the rocks — sometimes spraying 20-30 feet into the air.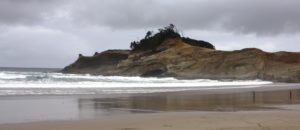 Currently the businesses at Cape Kiwanda consist of a couple RV resorts, a hotel, a general store, and 3-4 restaurants — all in a little one-block radius. (A large hotel/spa is on the way). I've been hanging out quite a bit at Stimulus, the coffee shop with a VIEW…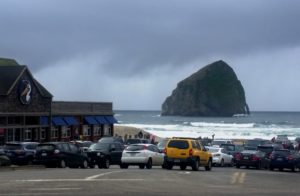 This is The Pelican, a world-class micro-brewery and restaurant right on the ocean!  It's understandable why people flock here — terrific beer and an unbelievable view. The food might be equally tasty, but the premium prices have just left me wondering about that for the time being. Perhaps next time around.
I may even join the mug club one day…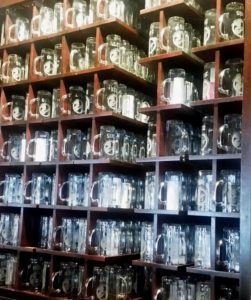 For $80 (and $40 annual dues) you can get your own numbered mug at The Pelican. This means every time you enter the establishment the bartender gets to leaf through sliding cupboards and climb ladders to find your personalized glass! It's astonishing to watch, and maybe it's even a bit silly — but really, really cool.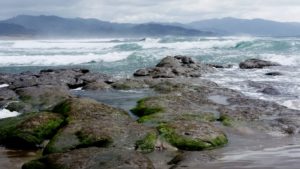 My Latest Brilliant Idea…
So here's my "latest." I intend to spend 6 months a year on this coast. I can work 3-4 events in Vegas per year, pick up 2-3 gigs in Oregon and Washington, and also fly out for work in Atlantic City and other venues. Someday I'll have the ability to roam the entire country again. But until then, this is easily the next-best thing. This is where I belong.
And, once I sort out my health issues, this is very doable. With my Thousand Trails membership I have 4 campgrounds here on the Oregon Coast. I can stay 2 weeks for less than $50, then my "out week" for an average of $250 (in-season/off-season), and simply bounce around this paradise for all of $100 per week! Sign me up.