Click Any Photo To Enlarge!
" * " Definition on Common Terms Page
Current Venue: Kanarraville, UT
Campground: Red Ledge RV Park and Campground
If I have a choice I do most of my sightseeing on overcast days. Being somewhat of a vampire, sunlight is generally more disagreeable with me after a couple hours, and "gloomy" weather puts me in a good mood! Having a few weeks at my disposal here in Southern Utah has afforded me the opportunity to choose a cloudy day, and I couldn't have picked a better one.
I'd been warned by my neighbors. They had been to Bryce Canyon a few days earlier. Well, sort of. Apparently they could not resist the allure of the many sites along the way — and the two hour drive turned into six. They actually ended up turning back around when they arrived at the park gates around 4pm. Not wanting to make the same mistake, I managed to keep my stops to a minimum. I couldn't resist this photo op in Red Canyon, however…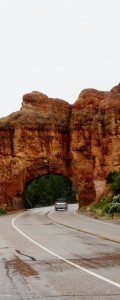 Navajo Trail takes you immediately and straight down into the slot canyons. About 80% of the 2-mile loop is comprised of these slots. I took dozens of pictures in the slots but I think this one gives you the best idea of the scale of these canyons. See the dots at the bottom? Those are hikers…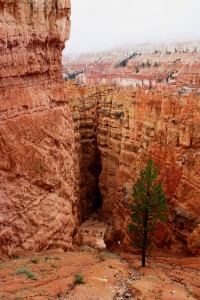 As you exit the first set of slots you finds yourself in this  pine forest/streambed/canyon setting. While I was in total awe of the slot canyons, the clearing was a good place to catch my breath and take in the stillness of this strange and surreal landscape.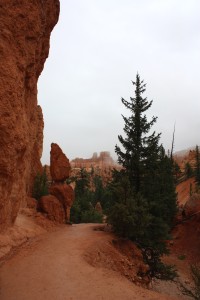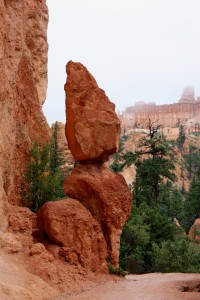 Doesn't this look like a lost, enchanted world? I keep waiting for a pterodactyl or t-rex to show up…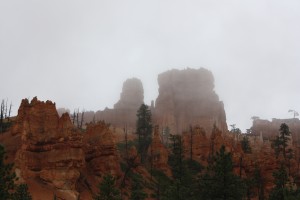 Back up into the second set of slots. Here you finds some natural bridges…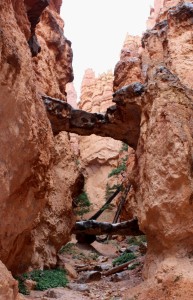 I marvel at how often I ran into a single rogue tree right in the middle of the slot. How do these trees flourish in such rugged conditions with minimal sunlight?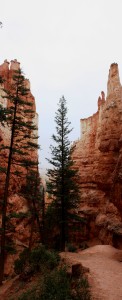 The "hoodoos" are everywhere…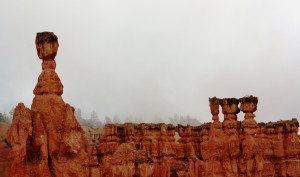 This one is for the boys. THOR'S HAMMER…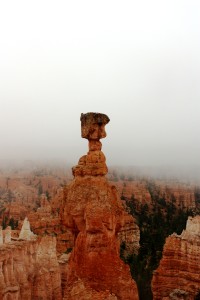 Perhaps not all trees are in love with Southern Utah. It appears this one is making a run for it…