Click Any Photo To Enlarge!
" * " Definition on Common Terms Page
Current Venue: Las Vegas, NV
Campground: Thousand Trails RV Resort
So my One-Day Fun-Day ended up sooner than later. Due to a schedule mishap, I got 3 unexpected days off the next couple weeks. I decided to make the best of this one and shoot up to Mt.Charleston to see some snow.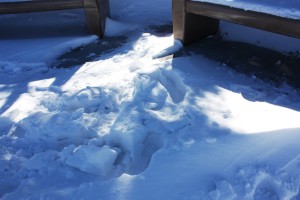 I'd always heard  that Mt.Charleston was about an hour away, but I was pleasantly surprised that the entrance of the park is really only a few minutes from Summerlin! Highway 157 takes you up the east side of the Spring Mountain Range, which had a little more than an inch of snow. After a short hike at Fletcher Canyon, I checked out the Fletcher View Campground across the road. It appeared the $30 per night included electric only, but with water available at the restroom. This might be a fun 3-night stay sometime in the spring during an out-week. I think I could get 48 Ugly up this hill, as the road is nice and straight.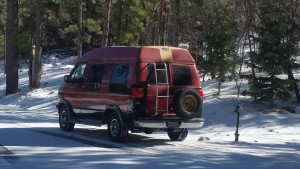 Highway 157 dead ends into Mt.Charleston Lodge. Spectacular views, fireplace, cute waitresses, and the best fish n' chips I've ever had!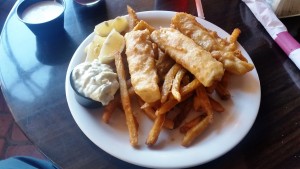 Highway 158 crosses over to the west side of the mountains. It has several great pull-offs and photo ops.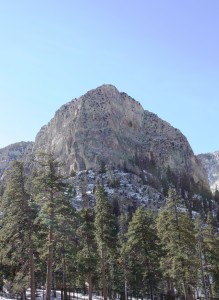 Highway 159 is on the west side, with 2-3 inches of snow. There were quite a few sledders at Lee Meadows…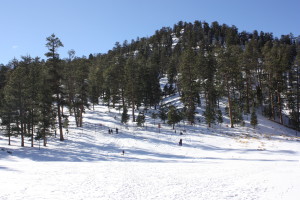 I didn't sled, but I DID do something pretty amazing. From over 9,000 feet back down to the valley at 3,000 feet, me and Memphis Red coasted all the way down 159 without having to touch the accelerator once! In fact, I had to tap the brakes a few times as my speeds approached 70 mph. Fun!
But the fun ended shortly after I arrived in Vegas…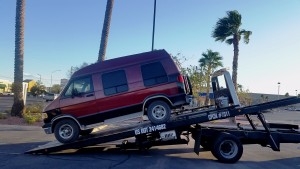 I was pulling into a movie theater to complete my One-Day Fun-Day when the grumbling noise I'd been hearing for the last 5 months finally manifested into a real problem that a mechanic could actually diagnose. The water pump died, the serpentine belt came off, and my coolant was spewed all over the parking lot. I'd been needing a radiator flush, anyway. And now, $450 later, the grumbling has finally stopped. I'm just grateful this didn't happen during my Utah trip, on the freeway, or on top of Mt.Charleston.
So it turned into a One-Half-Day Fun-Day. I'll do the other half on Thanksgiving…