Click Any Photo To Enlarge!
Where I'm At: Las Vegas, NV
Campground: Thousand Trails
Rookie Grillmaster
I picked up a grill for free in Quartzsite a few weeks ago and finally got it out today…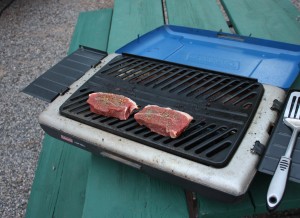 I've only done this a handful of times in my entire LIFE, but after cooking up these two beauty's I've decided I have skills — this little grill is going to be getting a workout in the next few months!
Tint and Trim
I'm also thrilled with my newly-tinted windows.  Not only can I spy on my neighbors while walking around my home naked, I just think the old rig looks so much sharper when the curtains are concealed.

It's funny, last spring when I traveled a few days with the Dixons, Jim loaned me some heavy-duty electrical tape to secure my loose trim and weather-stripping on the front.  I'll bet he didn't expect we'd be removing that tape eight months later in Quartzsite, Arizona!  We came up with a creative solution by securing the trim with some brackets (freshly painted red). Maybe it's a tiny bit crude, but you can do this sort of thing to old rigs and, more importantly — I like it.  Occasionally I catch a neighbor studying  the fix with curiosity.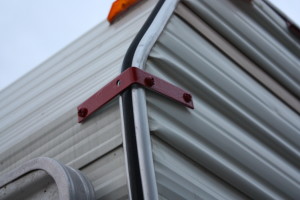 Tags
Last, but not least, I've been doing some interior decorating…

A couple are sentimental favorites.  My dad recently gave me an antique he found in a shed in Illinois…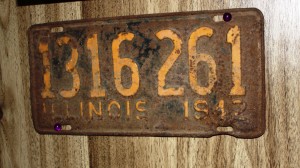 And this one, Kansas, is the one I'd been looking all over for until I found it lying on the ground at the flea market at the Q! Appropriately enough, I left some caked dirt on it.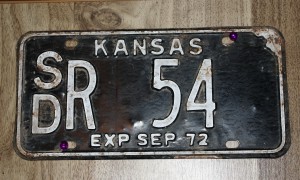 It's a reminder that, as I'm beginning to struggle a little here in Vegas, that it's never as bad as last year when I was camping in Coffeyville, Kansas battling the coldest winter on human record with only $300 to my name!