Current Venue: Springdale, AR
Campground: Pilgrim's Rest
Click Any Photo To Enlarge! " * " Denotes A Definition Available on the Common Terms Page
Recently Updated : Written in Jello
Under different circumstances, I really would have enjoyed my stay at Quapaw Casino.  It was very unique having the casino door only a few feet away.  On my "breaks" I was able to play 25-cent blackjack on the machines without having to cash out the ticket each time.  In fact, I played on the same ticket for 5 days straight.  I even made a small profit.  Not to mention the free beverages.  The free campsite didn't hurt, either.
But I really thought I might break free from the single-digit temperatures and frozen plumbing.  I believe I had one shower in a matter of 8 days.  It was the one day the weather and the roads weren't completely treacherous.  I paid a whopping $13 for a shower at this truck stop…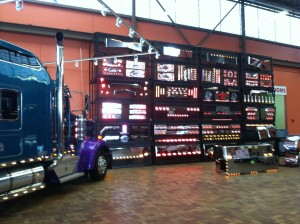 Prior to my departure, I discovered reddish-brown drops in the snow.  Transmission fluid.  Lots of it.  Great.
Even after adding a quart, I drained nearly the entire thing on the 70-mile journey to Arkansas.  The fun didn't end there.  Down steep hills and up another — on thick, slippery ice.  I don't know how I got up the hill.  A 20% grade?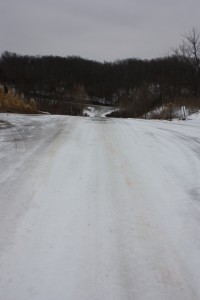 Leveling was almost impossible — I couldn't back up on the ice.  In fact, I had to select another site that had been recently vacated just so I could anchor 48 Ugly * to "something."  Having a little gravel to work with did the trick.
A few images from the park…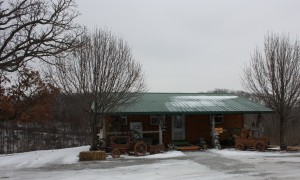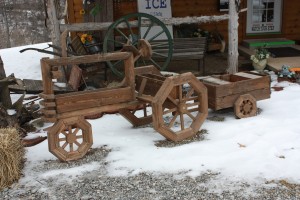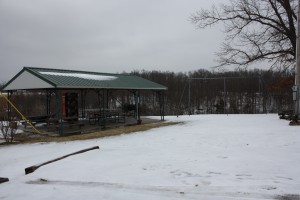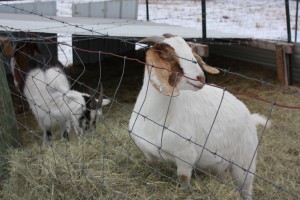 But what about Memphis Red * ?  It's bad.  I've already gotten a couple opinions, neither of them good.  I'm in for $1500 – 2000 in repairs.  It seems I need to replace all my transmission lines and freeze plugs.  In fact, the transmission may need to be pulled out to have all the plugs replaced.  I'm being told I'm at great risk of losing my engine if I don't do this right away!  As soon as my tax refund hits my account.
Amazing.  I should have had 8 full days to prepare for my training this week.  I won't get a single one.  The expense of these repairs is going to ground me to this area just to pay it.  A month.  Two months?  I'm beside myself.
This is starting to feel like a post for The Uphill Battle.  But I couldn't candy-coat this one.  2014 is quickly becoming a crossroads in The Ultimate Journey.  I'm going to have to make some tough decisions soon.  I'm failing at the full-time RVer thing.   Postponing the 2nd half of the journey to work for a couple years is a dreadful thought, but probably a necessary one.  Perhaps Vegas would be tolerable enough for me.  That's if I can even scrape up enough to get there.