Click Any Photo To Enlarge!
Where I'm At: Marsing, ID
Campground : Riverhaven RV Park
I picked up a new Garmin GPS when I was in Chehalis, Washington a few weeks ago and just love it. It's your typical modern-day device but I'd been living in the dark ages for awhile and am still soaking in the advances made in GPS technology — particularly the much-easier-to-use touchscreen.
There's no internet access in Marsing, Idaho. Craving a little adventure, I hopped in the van to see what the Garmin had to offer under "attractions." Cleo's Ferry Museum immediately jumped out at me…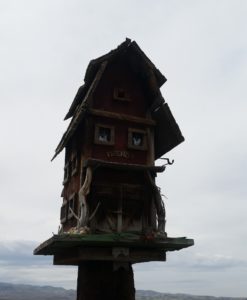 It was closed. Well, sort of. The folks at the general store informed me that the museum was run by volunteers on weekends during the summer but that the very popular nature walk was open year-round. It operates on a donation basis.  We shall see…
I'd certainly give the trail a chance. Besides, despite my disappointment the museum wasn't open, I'd already had a good  day sightseeing and was in a r good mood. And, if nothing else, I got to enjoy the amazing assortment of handcrafted birdhouses in the general store parking lot.
I headed down the hill to the visitor lot and gazed in wonder at the artistic arrangements of the toys of yesteryear — wagons, tricycles, tonka toys — each with it's own section and each toy meticulously placed with care and thoughtfulness. I knew I was in a very neat place.
When I parked in the visitor lot, I knew I was in the right place when I spotted this birdhouse…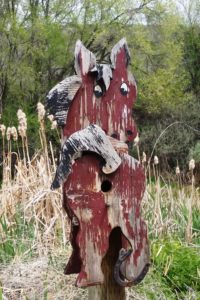 I was impressed so many folks were arriving just to walk the mile-long trail. Even more incredible, they were lining up at the donation box before entering the park. It seems most of them were return visitors and were more than happy to pay the fee. I'd see how I liked the trail first…
The museum consists of a village with several rustic buildings along the Snake River  near the bridge that I'm assuming replaced what was originally know as "Walter's Ferry" up until the early 1900's.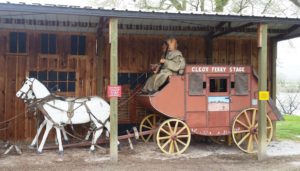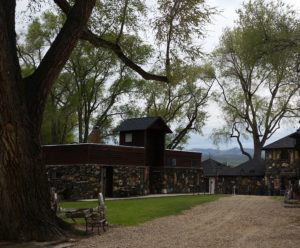 Peacocks are abundant throughout the museum village…

Cleo Swayne was the wife of Dr. S.A. Swayne, a wealthy Quaker. She founded the museum and spent 30 years turning a nature trail into an absolute work of art. What catches your eye right away are the birdhouses. There are probably well over a thousand of these along the trail.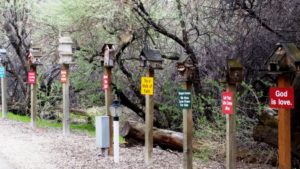 Each one is handcrafted with great detail.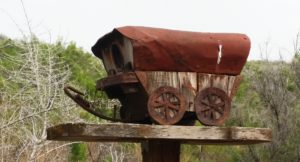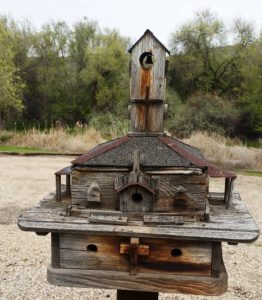 Most have an uplifting message attached to them.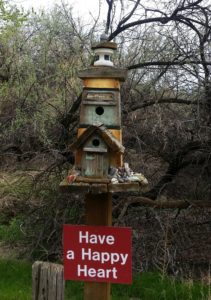 It's no wonder everyone on the hike appears to be in a fantastic mood! And, while there is clearly a religious undertone to these platitudes, there is no fire and brimstone or anything overbearing for us non-religious types — just inspirational messages and humor.
There are small temples for meditation and prayer.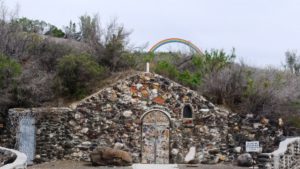 The fun seemingly never ends. After a jaunt through the "enchanted forest" to visit gnomes, trolls, and other mystical creatures, you find a field of bronze statues — again, each meticulously placed to create a magical theme. I took a "selfie" with a bronzed Mark Twain. As you can see, it's not pictured. There's a reason I don't do selfies.
The Cleo's Ferry Nature Trail is an absolute must-see. It's one of those things hard to capture in words or pictures. You simply can't see the devotion behind it until you visit it yourself. Every little detail is created with great care and love, and the intention is clear — to uplift and inspire.
I was very happy to make a donation.