Click Any Photo To Enlarge!
Where I'm At: Marsing, ID
Campground : Riverhaven RV Park
Riverhaven RV Park : No Bicycles Allowed!
First, I want to begin by saying I enjoyed my time at Riverhaven and would absolutely return at the Passport America rate. Once again, I have fine luck with this discount club — this time scoring 3 nights at half-price in Idaho wine country! I don't know if it's "in-season", but the weather was lovely and I had no trouble finding this campground in the directory.
The location is ideal for me as a possible stopover between Jackpot, Nevada and Pendleton, Oregon. However, I would definitely need to work out certain details if I were to stay here again. When I called in advance to reserve a space, I was told it wasn't necessary to make reservations and that I could just pull in. I thought this to mean there was plenty of space…
However, when I pulled in, there was only one space available! (The park is largely residential with only a handful of overnight spaces). I may be a little backwards, but isn't this the most crucial circumstance in which to make reservations? Odd. The park is quite a ways off I84 so I would dread the idea of just showing up to a full camp. No harm, no foul. I know this for future reference now. The manager is super-nice and I'm sure she will take my reservation next time around.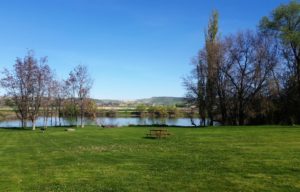 The overnighters get a nice view of the Snake River. I was pretty impressed at how many fish I saw, large and small, doing belly flops here. I didn't bring my fishing gear, however.
The river is the main attraction. There are no amenities outside the basics such as showers and laundry. Which brings me to Oddity #2 : The laundry is closed on Sundays.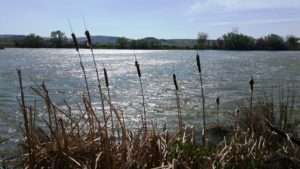 Sometimes location is everything. Little did I know before arriving that Marsing is right in the middle of Idaho wine country as well as several other attractions! (Although the town of Marsing itself is a bit of a yawn). I decided a bike ride on my little country road was in order but was quickly informed that riding bicycles was not allowed in the park! I had to inquire…
Because residents were getting drunk and crashing their bikes into RVs! Not only full-grown adults, but children, as well (I'm assuming the tikes were not intoxicated). This is about the strangest epidemic I've ever heard of. I had a good laugh over this as I walked my bike off the premises.
My Fun Excursions in the Marsing Area…
Marsing Island Park is a favorite for fisherman. Note the unusual black rock formation on top of the mountain…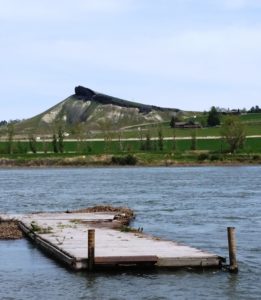 Givens Hot Springs is not only a popular tourist destination but also seems to be the municipal pool for many of the farming communities in the area. Not only can you swim in the spring-fed pool but you can also soak in the private baths for $10 per hour.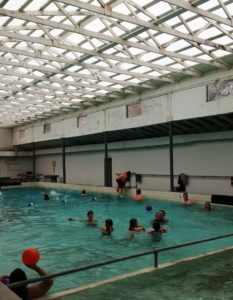 The Cleo's Ferry Nature Trail (Melba, Idaho) deserved a post all it's own (see previous post) and I suggest if you're anywhere in the Boise area, be sure to seek this one out!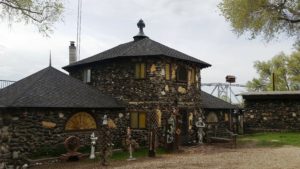 The Orchard House is a Cracker-Barrel style mom-and-pop restaurant that is simply outstanding! I began with a mushroom-brie soup and finished things off with a big ole' sloppy Rueben and Idaho potato wedges with "fry sauce." I finished every last bite and enjoyed every moment. The prices are very reasonable and the home-made desserts in the bakery were absolute works-of-art.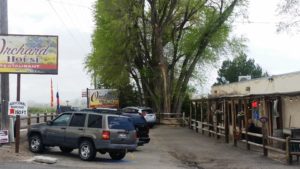 I'd set out this day to do a few wine-tastings but only managed one before finding myself in Nampa, a fair-sized town with modern-day shopping! Incredibly, I'd then realized I hadn't seen any big chain stores in several weeks and they were a very welcome sight. I really didn't buy anything, but the familiarity of big-city shopping centers felt strangely fun after so long without.
GPS to the Rescue!
I had NO internet here. No Wi-Fi, no Sprint data, no hotspot signal. My new GPS came in quite handy in Idaho. Whenever I wanted to take a trip, I'd see what the Garmin had to offer under "attractions" or "restaurants." It didn't disappoint! In fact, it's more fun sometimes to just "go" rather than get on TripAdvisor and read too much into the reviews.