Click Any Photo To Enlarge!
" * " Definition on Common Terms Page
Current Venue: Las Vegas, NV
Campground: Main Street Station

It's March Madness! I'm happy to report my Duke Blue Devils are still on a collision course with the undefeated Kentucky Wildcats. I'd decided early on that I'd root for Kentucky to run the table — unless they met up with Duke. And how cool would it be if the Blue Devils were the spoiler of a perfect season twice in a championship game! (The knocked off undefeated UNLV in 1991).
But March Madness has taken on a double-meaning for me this year. I found out the hard way that the RV parks in Las Vegas are completely booked for most of the month and, long story short, I found myself scrambling for places to stay in addition to a full-time job search. Finally, things have settled down enough for me to do my taxes last-minute.
I was a bit concerned about my new residence. While it is nice I have a  big shady spot most of the day and a little yard on one side…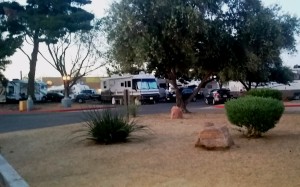 The freeway overpass is only 100 yards away…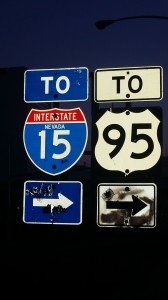 But highway noise has never bothered me. Here's what I was really worried about — there's a fire station right in my back yard!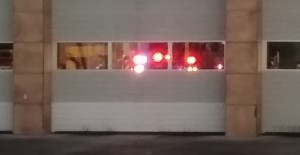 Oddly enough, I seem to be sleeping just fine! Occasionally I open the curtains at night so me and Jeepers can watch the fire engines roll out with all their pretty lights (it's quite an effect when the lights are all you can see through the tinted windows).
*****
It's just a couple more months until I deal the World Series of Poker, again. I believe I'm going to make it! My current employment includes: dealing in a bar poker league, occasional on-call work at a couple casinos, temp work as a banquet waiter, and a new temp job collecting signatures for a petition (more on this one later).
Craigslist has been my primary resource for employment. Most of the companies on the large job listing sites like to collect thousands of resumes and then have prospects jump through hoops. It's a long, tedious process to fill out these on-line applications, with minimal results. And besides that, they are typically for real jobs — and who wants that?!
Craigslist feels more like the good ole days when you could respond to an ad in the newspaper and practically talk to a human being right away. Of particular interest to RVers would the be "events" category where you can find work with catering companies and sell beverages at a sporting event.
I'm also considering working at Amazon later this year. They are finally offering "Camperforce" in a warm-weather climate this year and I wouldn't mind spending the holiday season in Texas. I've already applied but am trying to find out more about the campground before I commit — most importantly adequate showers and cell-phone/internet coverage.