Click Any Photo To Enlarge!
" * " Definition on Common Terms Page
Current Venue: Las Vegas, NV
Campground: Main Street Station
It's been an unseasonably cool May in Las Vegas and we're LOVIN' IT!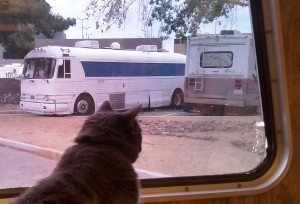 I'm also starting to find my "groove" with the whole in-and-out camping membership. I would even daresay that I enjoy the planning, making reservations, and moving every week or two. It keeps my perspective fresh almost as much as traveling does! I'm also finding my favorite campsites at my regular campgrounds. For instance, while Main Street is definitely a no-frills park, there is a nice shaded island that is nicely landscaped, a perfect reading spot.
One of the perks of staying here is hanging out at the host casino. Main Street Station Casino is a class act. Not only do they have the best buffet deal in town (about 10 bucks for a meal most resorts would be proud to charge $30 for), it's tastefully decorated with relics from all over the world, including slabs of the Berlin Wall above the mens' urinals! (Sorry ladies). My favorite displays are the train cars, of course.
I'm going to have some extended stays here over the summer while I'm working 2-4 jobs. It's cheap and very central to my work. In fact, my two on-call/fill-in tournaments are in walking distance right here in downtown Vegas!