Click Any Photo To Enlarge!
" * " Definition on Common Terms Page
Current Venue: Las Vegas, NV
Campground: Thousand Trails
Las Vegas is the ultimate adult playground.  But would you believe there are dozens of casinos in town that tourists rarely step foot in?  They're our hidden gems — locals' hangouts.  And make no mistake — they treat their locals right!
Longhorn Casino is next door to Wal-Mart on Boulder Highway…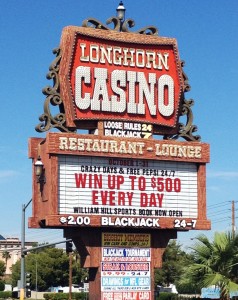 My favorite food special is the $1.99 late night breakfast: Bacon, eggs, toast, and hash browns.
As far as Vegas casinos go, Longhorn might be considered a "hole-in-the-wall." It's packed every night.  
It's even quite busy in the day!  The feature attraction is the daily blackjack tournament at noon.  For only $10 you can with cash, gift certificates, and other prizes if you can outlast about 10-15 opponents.  You also get a "free ace" that you can play at the cash tables for up to $5.   Incredibly, even though Longhorn is only about a mile from Thousand Trails, I've only made it here about 3 times in the past 5 months!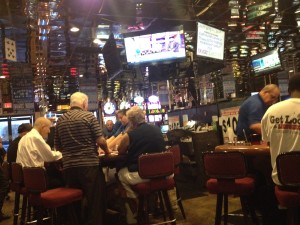 And would you believe I can't beat these senior citizens? One thing you should know if you should ever try your hand at these tournaments : The 55+ crowd knows what their doing!