Current Venue: Miami, OK
Campground:   Quapaw Casino RV Park
Click Any Photo To Enlarge! " * " Denotes A Definition Available on the Common Terms Page
Recently Updated : Written in Jello
Good News : On Monday, I barely won the race against the weather.  Snow and sleet started about 5 minutes after I arrived.  I also barely beat darkness, arriving after the sun had set but just in time to set up.  I have electricity. I have internet.  I have phone service. I have 3 nights free, then it's only $10.  The entrance to the casino is 200 feet away.  I have access to free coffee and soft drinks.  And I have restroom facilities.  In fact, I may have access to the best public toilets in the country…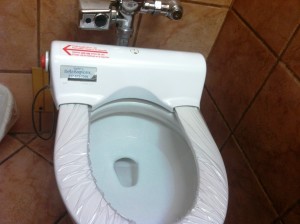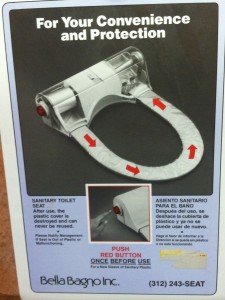 Simply push the red button and a clean sanitary cover rolls out!  (The old one is dispensed onto a roll that is thrown away by the cleaning crew).  It's difficult to believe this fantastic concept is only used at a little ole casino in North East Oklahoma, but it' the only place I've ever seen it.  I assure you as long as I'm here I'll be doing all my bowel movements inside the Quapaw Casino (easy decision being my plumbing is frozen solid).  If you choose to do your "business" here someday, be sure to tell em' The Ramblin' RiverCat sent ya!
Bad News : My plumbing froze almost immediately.  I'm 20 minutes from shower facilities at a truck stop.  My hair has not been washed in nearly 3 days.  I'm 20 minutes from the facilities because I accidentally came to the sister casino instead of the one I had in mind — which has poker and is near the truck stops.  Due to extreme cold and icy road conditions I won't have an opportunity to move 48 Ugly* for a few days.  It was 7 degrees when I woke up today and the low is supposed to be 3 tonight with a high of 16 tomorrow.  Memphis Red* is not running very well in low gear, seemingly more electrical issues.  I still don't have "real" work lined up and am struggling with the game plan moving forward with Kitchen Craft.
I didn't leave on the best of terms with the owner of Buckeye RV Park.  I was charged for 2 nights I didn't feel I should have been charged for.  One, I think was a result of a miscommunication with Amazon.  The one I was really upset about was him charging me for Monday because of my late departure after 3 pm.  This is not the hotel business where the maid has to change the sheets.  And it was very clear there were plenty of lots open and I didn't feel the need to ask about a late departure because nobody has ever bothered me about it before during a non-peak season.  Also, the temperatures did not climb out of the teens until after noon.  It took quite awhile just to dig my home out of the skirting and 20+ cinder blocks…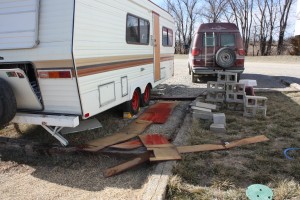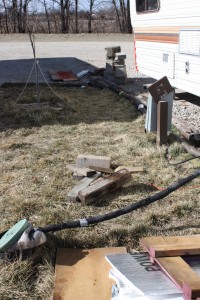 I've always liked and respected the owner there and, if I were ever crazy enough to spend a winter in Coffeyville, I would stay there again.  I believe he'd been under a lot of duress due to the high utility costs of the coldest winter in the history of modern mankind.  I get it, and to his credit, he did give me a partial refund for Monday.  I won't pursue the other day — Kansas is just going to become a distant memory real quick. And despite many challenges after my arrival here, I'm still in a reasonably good mood.
After all, I have world-class toilets and the rest-of-my-life-after-Kansas to look forward to…