Click Any Photo To Enlarge!
Where I'm At: Lee Vining, CA
Campground : Mono Vista RV Park
A Towing Adventure on Route 120
After consulting my Mountain Directory West before leaving Nevada, it appeared I had an easy trip! I'd take 375 to 6 to 120 east, with no apparent steep grades according to my maps. But, every now and then, my atlas will miss one…
When I turned onto 120, I was immediately concerned by the hairpin curves and abundance of pull-offs. These were clues my little 318 was going to have a tough 40 miles to Lee Vining. The grade didn't appear particularly steep, at first. But, in drive, I simply couldn't find any momentum. Just one mile into the journey, I was starting to overheat — with 39 miles to go!
I pulled over. Would I really attempt this? I really didn't have much choice. Turning around on this little two-lane was hairy, at best. I let the little engine cool down, put it in low gear, and crawled up the hill. I made the pass about 20 miles later and could immediately tell I was in Yosemite country. Shortly after, I was rewarded for my efforts in Lee Vining — it snowed for about 10 minutes! (I love snow).
Mono Vista RV Park
This little campground is on the edge of the small town of Lee Vining — population 350. Mono Vista is the perfect name for it! From my campsite I could gaze down at Mono Lake in one direction, and enjoy gorgeous mountain views in the other. Surprisingly, our garbage cans were not exactly bear-proof…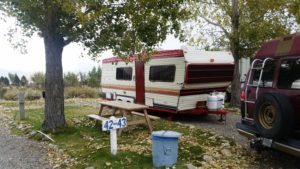 When you arrive, you're presented with gold tokens — two per night. You protect them like they're gold, too. These are your shower tokens. Each one is worth 5 minutes of hot water.
Even though Mono Vista feels nothing like a city park, it's directly behind one the town's two gas stations…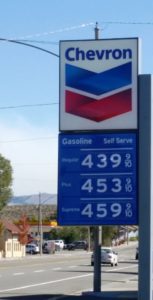 I had a great time visiting with all my neighbors. All of them were fantastic and seemingly in a good mood. It was good to see tent camping and smell the aromas of cookouts and campfires. This is the stuff I always look forward to when I hit the road again.
June Loop
Near the Tioga Pass entrance to Yosemite is a recreational drive called June Loop, featuring several lakes, lodges, and restaurants. I was pleased to begin my drive spotting certain areas where the previous evening's snow actually stuck…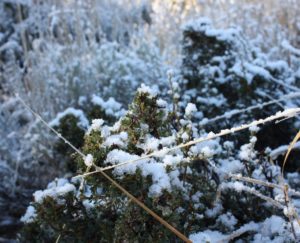 Just a little further down the road is a town called June Lake…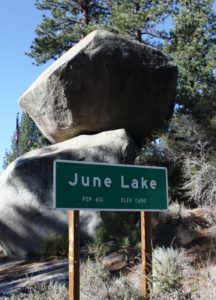 Silver Lake is popular fishing spot with spectacular mountain vistas…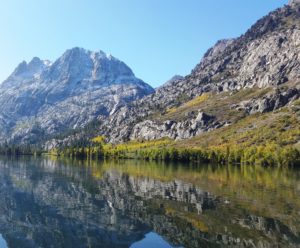 So Much to Do in so Little Time
It almost seems absurd that I was right on Yosemite's front porch and wasn't going to visit one of my most favorite parks ever! But it was clear. I only had 4 days, one of which I had to switch campsites. Mono Lake and Bodie Ghost Town (see previous posts) were must-sees, and I didn't want to wear myself out — relaxation was also on the agenda.
A Quest for Wi-Fi 
It had been nearly a week since I'd had wi-fi. The internet at the campground was pointless and my hotspot got nothing. When I spotted Latte Da, I was filled with hope!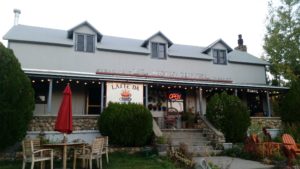 It's hard to beat the ambiance at Latte Da. There's limited seating indoors, but plenty on the porch and several spots on the lawn. But their wi-fi stinks!
Finally, on Day Four, I found what I'd been looking for. Embarrassingly, it was under my nose the entire time! Across from Mono Vista is a high school with a somewhat-concealed public library on the same property. They offer high-speed internet and excellent wi-fi. Additionally, they keep the signal on 24/7 so people can sit outside and use it after-hours. I keep forgetting libraries can be excellent resources for travelers as well as locals.