Click Any Photo To Enlarge!
Current Venue: Las Vegas, NV
Campground: Thousand Trails
Every year Elton John and Billie Jean King face off in a team tennis tournament to raise money for the AIDS foundation. For the second year in a row, it took place at Caesar's Palace. With absolutely perfect weather, it turned out to be an awesome setting.
After Elton John made a nice shot in the preliminary rounds, the pros took the court. The players included John McEnroe, Maria Sharapova, Mark Phillippoussis, Martina Navratalova, Liezel Huber, CoCo Vandeweghe, Andy Roddick, and Mardy Fish.
Here's the great Navratalova streaking across court for a backhand winner…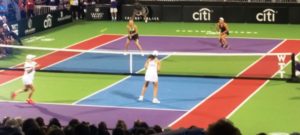 Unfortunately, that was about my best shot of the night — I'm in a photographer's slump. My video looked fantastic until someone inevitably walked in front of me on each take. So, you'll just have to take my word for it…
McEnroe delighted the crowd with some old antics.
Phillippoussis and Roddick faced off in a singles match that featured some rocket serves.
Sharapova looked just fine — at least from where I was sitting.
Tennis is such a great spectator sport. I just love watching these athletes play singles because it requires so much mental, emotional, and physical toughness. I passed on an opportunity a few months ago in Palm Springs ($40 parking), but will add that one back to my bucket list along with the U.S. Open.
I just got word recently that I'll be working from October 25th – November 25th. So, the new plan…
Stay in Vegas early December and attempt to qualify for the Bellagio World Poker Tour event.
Head towards the Sedona area mid-December.
Stay in Cottonwood, Arizona for the holidays.
Either work in Oklahoma or Vegas in early January.
Hopefully work in Atlantic City late January. If not, I might be playing/traveling in any number of places including Los Angeles, San Diego, Oklahoma, New Mexico, and Arizona.
Back to Vegas in February.
Atlantic City in March or West Coast trip for the spring.
Summer grind in Vegas June and July.
Straight to cooler weather in the San Francisco area in August and play a HPT event in Sacramento. (My goal is to pay off my remaining debt at this time).