Click Any Photo To Enlarge!
Where I'm At: Las Vegas, NV
Campground : Thousand Trails
The roofs of parking garages in Las Vegas offer some of the most spectacular views you'll ever see. Most of the garage rooftops are virtually empty, so most of the time I can observe the chaos below in complete solitude and silence. The top of Venetian employee garage is no exception.
I don't always get to park here. On certain days I need to drive my over-sized van. On these occasions I park next door at The Linq, home of the "High Roller" observation wheel (yes, it is the largest in the world).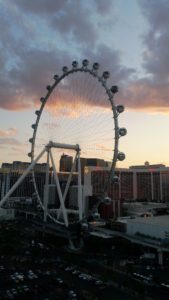 But on days I get to ride my scooter, I park near the top floor and oftentimes, after a shift, I'll zip up to the roof and pause for a few moments of reflection. This being my last shift at the Venetian for a few months, it certainly seemed like an appropriate time for some "rooftop therapy."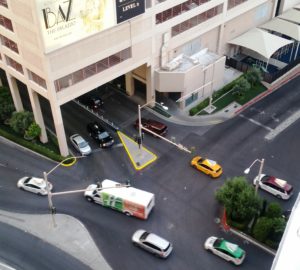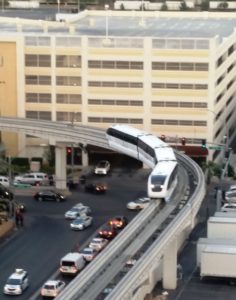 It's been a tough year with the demise of Jeepers, perplexing health issues, and challenges with my vehicles. But strangely enough, despite the difficulties, I'm starting to feel excited again! It seems my health issues are going to be manageable, I have work lined up, the van seems fine, and I have a full slate of travel destinations through January.
I have been busy with home improvement. But hopefully, if my schedule eases up, I'll be playing some warm-ups tonight in preparation for a satellite tournament tomorrow into a major event at The Wynn. If I qualify for the event I'll stay in Vegas a an extra few days. If not, I'll leave Saturday.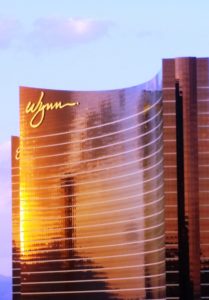 The Venetian has been good to me [pictured below left, sister casino Palazzo on right, Trump Tower middle]. I'm very grateful to be a seasonal worker here and have had the opportunity to work 3 events here per year.
But I know the wise thing to do is branch out and take on a few traveling gigs. As these events start lining up, I'm realizing there is a distinct possibility I may not even work in Vegas again until next summer! Now that's a wild thought…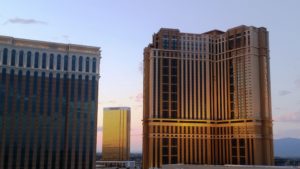 Updates : Good News! The young dog-bite victim is making a full recovery and even back at the park playing! I changed sites for a change of scenery, however, and feel much more relaxed now.
My severe dry eyes are now improving a little with treatment and I'm now able to wear my specialized contacts longer. This is the best vision I've had in years — and with fewer of the extreme symptoms like headaches, dizziness, nausea, and constant triple-vision.
I may have to live with other side effects for the rest of my life (for example, extreme starburst at night), but these are more minor symptoms. I've developed a routine for the insertion and removal of these contacts (you actually have to use tools) that I've finally got down to under an hour and — I'm feeling productive and alive, again!
Life is Good.