Click Any Photo To Enlarge!
Where I'm At: Las Vegas, NV
Campground : Las Vegas Thousand Trails
Work : Moose International at The Golden Nugget
A Changing Landscape
The landscape in Las Vegas changes rapidly. Casinos undergo constant transformations that are simply astounding. Last year one of the properties I work at did a nearly two-million dollar remodel on one of the employee cafeterias. That's right — a million-dollar break room.
It seems at least one massive resort is demolished every year and replaced by an even larger one. Here's a hotel on Fremont Street I've stayed at a few times…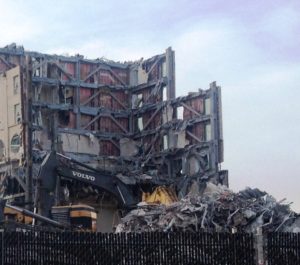 The Las Vegas Club, once the sister-property of The Plaza, close it's doors after 85 years . My memories of this casino will be the scantily-clad blackjack dealers and broken elevators. It was tacky, but you rarely had to fight the crowds there.
I always get sentimental when we lose an old landmark like this.
But I'm sure something fantastic will replace it in a couple years. After all, an entire city block is being demolished to make room for something new. (Glitter Gulch and Mermaids were among the other casualties).
Another Busy Pit Stop
More and more my home base is becoming but a mere pit stop. I haven't spent any real time in Las Vegas since September, and don't anticipate I really will before my 2-month stint this coming summer. This was just a one-week pit stop.
I worked. I played. But…
I mostly did lots and lots of errands. I suspect this will change a bit during future visits. I'll try to plan my return-trips so that the pace is just a little less frantic. It's time to become a Las Vegas tourist, again.