Click Any Photo To Enlarge!
Where I'm At: Las Vegas, NV
Campground : Thousand Trails
The Las Vegas Grind
I'm working 7 days a week now as all the major poker events in Las Vegas are in full swing. Despite all the excitement, my head hasn't really been in it. While I'm pleased that I've managed as well as I have with my vision/vertigo/nausea/headache issues, it is quite distracting and I'm just plain exhausted by the time I make it through each day. My recent routine has been a crash-nap and television every night — but that will change so that I start going to bed early and getting up at 5 a.m. I'm doing this so I have time to exercise and to give my eyes a chance to progress through several different prescriptions before I'm off to work.
Preparing for Extreme Heat
I'm also preparing for our first major heat wave. The 115-plus temperatures are on the way. This year I carved out some insulation for the windows. I'm getting ready to do some alterations on my curtains so this will actually be my view for awhile. I suspect they will double as bulletin boards.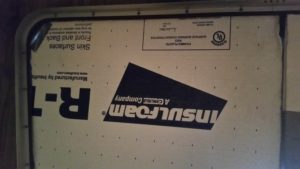 I'm thankful I no longer have to worry about Jeepers but, because I do have a history of circuits being tripped in extreme heat, I still have cause for concern. If I can get by with just two A/Cs  this year (one roof and one window-unit) I'll be very pleased. If they don't hold up, I'll go ahead and plug a 3rd A/C into the 20-amp so my home is not a fire hazard. Next week will be the test.
Organizing
My primary focus outside of work has been organizing. I'm obsessed with it these days! My storage unit is now full. My van is cleared out. And now my living space is becoming so functional I barely know where anything is anymore! In fact, I'm actually having to train myself with sticky notes on all my cabinets and drawers.
This has been so much fun and relaxing I've already decided to designate every summer to this task. Every June and July in Vegas will now be devoted to work, fitness, and indoor home improvement.
I'm nearly to the point of actually organizing my many notes and thoughts. I have to decide which of my business ventures I'm going to put the most energy into this fall. While I can certainly travel plenty as a special events poker dealer, the set dates and destinations create logistical challenges and constraints on what I consider "total freedom." Trust me, I consider myself very fortunate that I can do what I want half the year, but ultimately I intend to have complete freedom to roam the entire United States nine months out of the year (and only deal poker during the summer). I can only accomplish this if I'm a business-owner again.
Travel Plans
Everything's on hold until July 6th. This is when I learn when I'll see the next eye specialist! (Hopefully, I'll have my surgery by the end of the year).
As of right now I'm feeling confident I'll be selected to work a poker event in Northern Nevada the 2nd week of August. In which case I'll probably shoot over to Reno afterwards to play in a special event there. I won't even guess beyond that.