Click Any Photo To Enlarge!
Current Venue: Las Vegas, NV
Campground: Thousand Trails
The Mandalay Bay Shark Reef is a must-see when in Las Vegas. The first few exhibits feature crocodiles, reptiles, piranha, and this beauty…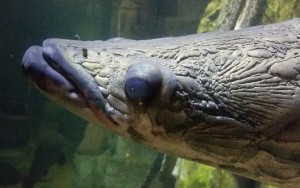 Then you see sharks — lots and lots of sharks. You'd think with a dozen species to take aim at, you'd capture at least one good shot. Nope, not even my video did them justice. I did have better luck with the jellies…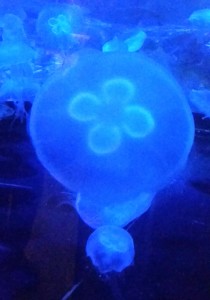 And I couldn't get enough of these guys…
Some of the larger sharks get to roam around in a 1.3 million gallon tank, one of the largest in North America.
While most people would agree Las Vegas is more of a Disney for adults, there are clearly some world-class family attractions here, as well. It was refreshing to witness children of all ages having a great time here. By the time I finished the tour, I felt like a child again, myself! A fun day.
I get so intensely focused when I'm in Vegas sometimes, I've admittedly missed a couple of my monthly One-Day Fun-Days. These are days I do nothing work-related, project-related, or gambling-related — just fun. I really intend to commit to this the remainder of 2016. It's important!